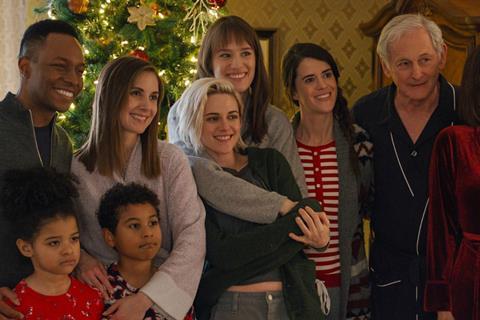 eOne has secured a pay-TV output deal with Sky covering the UK and Ireland for select new releases and almost 200 library titles.
Catalogue titles in the deal include the Twilight and Divergent franchises, Young Victoria, Dallas Buyers Club and Looper.
The new releases will include the romantic comedy Happiest Season starring Kristen Stewart and Mackenzie Davis, from November 26. The title was due to have a theatrical release before this was cancelled due the pandemic-induced second lockdowns in the UK and Ireland.
The deal gives Sky the pay -TV rights for eOne's first-run feature films, starting from summer 2021. This will include titles such as animated feature Two By Two: Overboard!, which was top of the UK box office heading into the current lockdown in England.
Sky has pre-existing content deals with Disney, Sony and Dreamworks among others.
eOne is likely to end this unprecedented year for exhibition with the highest-grossing release of 2020 in the UK and Ireland. Sam Mendes' 1917 has grossed £43.8m to date, more than double the amount of the next highest title – Paramount's Sonic The Hedgehog with £19m.
"A partnership of this scale marks one of the biggest strategic deals we've done this year," said Stuart Baxter, president, international distribution, eOne. "We're confident they will be a brilliant marketing partner for our content, working with us through the entire lifecycle."