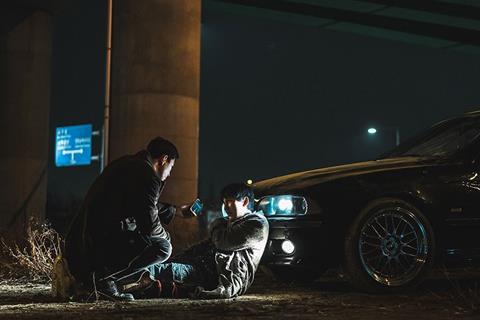 Epic Pictures Group has acquired North American rights to TIFF selection and South Korean action thriller A Man Of Reason ahead of its world premiere in Special Presentations.
Jung Woo-sung makes his directorial debut in the film from Studio Take Co. and stars in the story of a former gang member who tries to live a normal life following 10 years in prison.
After reconnecting with his girlfriend and learning he has a daughter, the man is forced to revert to old ways to protect his daughter when his old boss tries to bring him back into the fold. Rounding out the cast are Kim Nam-gil and Park Sung-woong.
The thriller premieres in Special Presentations on September 14. Jung and Jung Hae-sin co-wrote the screenplay to A Man Of Reason and Song Dae-chan produced.
Jung is known for his breakthrough performance in Beat and went on to earn acclaim his roles in The Good, The Bad, And The Weird, Cold Eyes and Steel Rain. He can also be seen at TIFF in Squid Game star Lee Jung-jae's The Hunt. Jung recently served as executive producer on the Netflix Original Korean sci-fi series The Silent Sea and reprised his role in Steel Rain for the 2020 sequel.
Epic Pictures Group will release the film theatrically and digitally via Epic Releasing in North America in the first quarter of 2023 following its festival run. The deal was negotiated by Epic Pictures Group CEO Patrick Ewald and CFO Katie Page with Hana Choi on behalf of Acemaker movieworks.
"Shakespearean in its violence, Jung Woo-Sung's A Man Of Reason is a modern masterpiece in storytelling that is filled with some of the most adrenaline-inducing and innovative action sequences," said Ewald. "We are deeply grateful to the team at Acemaker Movieworks and Jung Woo-Sung for allowing us to introduce this amazing thrill ride of a film to North American audiences."
"We're thrilled to present Jung's first — but overwhelming — feature A Man Of Reason to North American audiences, and look forward to the reception from TIFF and further festivals, " said Choi, international business team leader at Acemaker movieworks. "We are very happy to start our business with Epic Pictures, who have rich experience distributing genre films in the US and Canada, and are sure to provide an excellent platform for Jung's feature."