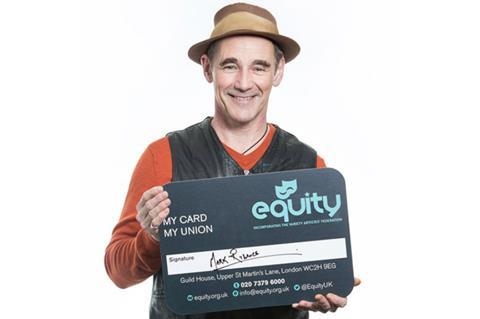 UK creative workers trade union Equity has created a £1m fund to support its members who are struggling financially during the coronavirus pandemic, and has issued a call for further contributions to the fund.
The Benevolent Fund is to support "thousands of entertainment workers" who have lost their jobs and are in dire financial need, according to Equity.
The drive for funds is led by actor Mark Rylance, who said in a statement: "Most of us are freelance, self-employed creative workers who move from theatre to TV studio to film location to corporate training to radio to wherever we are needed, wherever a story needs to be told. Most of us are not famous, are not rich."
"We are hired for our flexibility, our willingness to drop everything and turn up," he continued. "We as a Union can begin now to set an example. A wonderful example of what our profession is truly about. Support for each other on and off stage."
"I am sixty this year, forty years an actor and Union Member. I hope to meet young actors when I am eighty who ask me how we supported each other so generously during the Coronavirus crisis."
Equity represents industry professionals across several creative disciplines, including actors, stunt performers, models and variety artists.
"It's difficult enough to make a living in the entertainment business at the best of times, but now thousands of Equity members are facing the greatest financial hardship of their lives," said Equity president Maureen Beattie.
"While the government's new scheme for the self-employed is welcome, Equity members are in dire need right now and cannot wait for all the details to be ironed out. Please support the fund if you can."
Further details on the fund, including Rylance's full statement, are available on the Equity website.