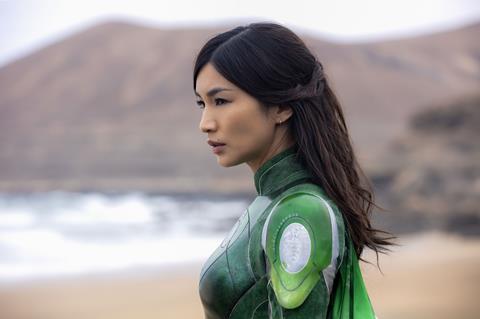 Marvel Studios' Eternals has grossed approximately $8.5m from its opening salvo of 14 international launches on Wednesday and early estimates of previews ahead of debuts in two key market today (November 4).
Opening number one in most markets, Chloe Zhao's superhero feature – whose release in Saudi Arabia and other Gulf states reportedly hangs in the balance due to an on-screen gay kiss – earned $2.6m in South Korea, $1.6m in France, $700,000 in Italy and $600,000 in each of Germany and Taiwan. In other Wednesday debuts, the film grossed $500,000 in Hong Kong, $300,000 in Sweden and a total of $700,000 from the remaining seven markets.
Meanwhile early preview estimates in Mexico and Brazil put Eternals on $500,000 and $400,000 respectively. The film officially debuts in both markets today.
Disney sources said combined first day overall results were 85% ahead of Shang-Chi And The Legend Of The Ten Rings and 20% ahead of Black Widow on a like-for-like basis.
In South Korea Eternals delivered the second highest opening day of the pandemic era behind F9 which opened on Buddha's birthday, and opened 125% ahead of Shang Chi's opening day and 68% ahead of that of Black Widow.
There were significant gains on the opening day results of the two aforementioned Marvel Studios releases in: France (66% up on Shang-Chi, 12% behind Black Widow); Italy (78% up on Shang-Chi, level with Black Widow); Taiwan (315% up on Black Widow, 103% up on Shang-Chi); Germany (39% up on Shang-Chi, 20% up on Black Widow); Hong Kong (26% up on Shang-Chi, 14% up on Black Widow) and the second highest pandemic opening day 1% behind No Time To Die); and Sweden (109% up on Shang-Chi, 8% up on Black Widow.
Eternals placed number one at the box office in Austria, Belgium, Netherlands and Switzerland; number two in Norway and Finland; and number three in Denmark.
The film will be in most markets this weekend and arrives on Thursday in Mexico and Brazil as well as Australia, Brazil and Mexico as well as Croatia, Czech Rep, Greece, Hungary, Israel, Portugal, Ukraine, Malaysia, New Zealand, Singapore, Thailand, Argentina and all of the smaller Latin American territories.
It is not scheduled to open this weekend in China, Russia, Middle East, Philippines, Indonesia and Vietnam.