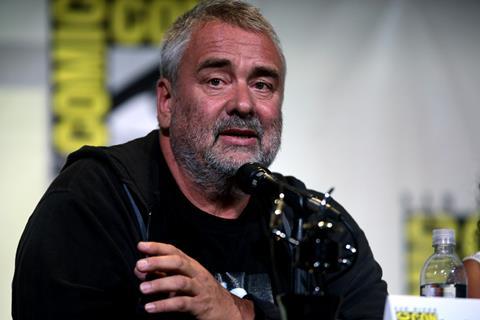 Seasoned French-Swiss media executive Axel Duroux has been appointed CEO of EuropaCorp, the company announced over the weekend.
The appointment comes just two weeks after the company – created by Besson in 1999 – completed a restructuring operation aimed at getting it back on its feet after a near two-year production hiatus as it tried to rein in runaway debts.
Besson found a saviour last February in the shape of New York-based asset management company Vine Alternative Investments which agreed to bail out EuropaCorp in return for a majority stake in the company.
This operation was completed on July 28, via a share capital increase operation worth $226m (€193m), reserved for Vine and Boston-based private equity firm Falcon, giving them 60.15% and 6.29% stakes in the company respectively.
Besson's holding company Front Line and Lambert Capital BV, representing the share belonging to late EuropaCorp CEO Christophe Lambert, now holds 13% of the company.
With Duroux's official arrival on September 1, Besson will step into the role of non-executive chairman of the board of directors and will now focus only on the company's creative activities as artistic director.
Duroux is a respected media executive in France. He arrives at EuropaCorp from PR and communications firm Brunswick Group where he was a senior partner and head of the Paris office.
Prior to that, he was executive vice-president of Publicis Group, responsible for emerging and fast-growing markets from 2014 to 2017. He was also CEO of RTL Radio in France from 2004 to 2009 and served as managing director of TF1 Group until October 2009.
He served as CEO of Endemol Development and senior vice president of Endemol France from 2000 to 2004. He began his career as a photojournalist and then as a television news reporter.
The finalisation of the restructuring operation should herald a new chapter for EuropaCorp, which has not produced a film or TV series since the 2019 action thriller Anna.
In its 2019-20 consolidated revenue report released at the end of May, the company said it would start up production again once the restructuring was completed. It said its aim was to produce two English-language films and one French-language film per year as well as English-language TV series with strong international potential.
Previously announced productions on the company's roster include sequels Lucy 2 and Colombiana 2 and Manhunt, a remake of Japanese film Shield of Straw, as well as TV series American Flagg!. There has been no update on the status of these productions as yet.