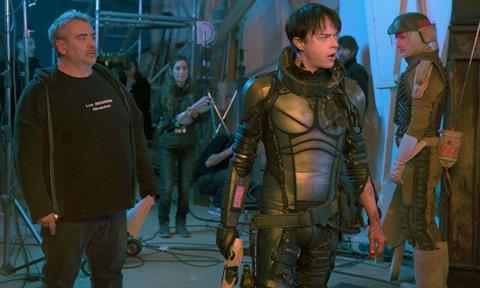 Luc Besson's struggling Paris-based film empire EuropaCorp has released a set of final results for the 2017-18 year that suggest the heavily indebted company is turning a corner.
According to the figures released after the close of the Paris Bourse on Wednesday evening, the company posted a $95m (€82.5m) net loss for the year ending March 31, 2018, against the record $135.8m (€119.9m) loss of last year.
As previously announced in preliminary results published in May, EuropaCorp's overall turnover rose 49% to $261.7m (€226.5m), from $175.3m (€151.7m) in 2016-2017 bolstered by revenues from Besson's ambitious sci-fi extravaganza Valerian And The City Of A Thousand Planets across all platforms.
The results come amid a difficult financial time for EuropaCorp which has been forced to sell non-core assets and lay off staff as part of a restructuring strategy to rein in debts over the past 18 months.
The company said on Wednesday a cost-cutting move to axe some 20 job positions from its operations in France, announced in January, had already saved $17.3m (€15.9m) but this benefit would be registered in the results for the 2018-2019 year.
EuropaCorp added its decision to re-focus on the types of content that historically worked for the company – mainly sci-fi and action works piloted by Besson – was also expected to bear fruit this year.
Details
EuropaCorp said $86.4m (€76.7m) of its income had been generated through international sales, accounting for 30% of turnover.
The company also noted a rise in revenues from TV and SVoD sales.
"Revenues generated by TV and SVoD sales in France and the US came in at $47.2m (€40.9m) against $34.5m (€29.9m) in 2016-2017 thanks to the opening of up SVoD rights in the US," EuropaCorp said, listing Valerian, The Circle and Miss Sloane as top sellers in this sector of the market.
Looking to the future
Outlining its future strategy, EuropaCorp said it would continue to re-focus its activities on the types of films that had proven successful for the group in the past, in particular, "action and sci-fi films in which Luc Besson is deeply involved".
Another key pole of its content strategy would be the development of cinema and TV spin-offs, and franchises linked to existing successful EuropaCorp properties, it said.
The company also said it would be seeking to reduce its exposure to the risk linked to p&a costs in the US, suggesting it had completely ditched past ambitions to break into the US distribution scene.
Upcoming feature slate
The company said its slate comprised two English-language films and three French-language films.
Two of the French features, Franck Gastambide's Taxi 5 and Jean-Pierre Améris's I Feel Better, have already been released in France, drawing 3.6 million and 120,000 spectators to date respectively.
The company is in post-production on a sequel to Guillaume Canet's 2010 hit Little White Lies, reuniting the director and cast, led by Marion Cotillard, François Cluzet and Gilles Lellouche. It is due to be released in France on March 17, 2019.
Upcoming English-language titles include Luc Besson's action thriller Anna, starring Sasha Luss, Luke Evans, Helen Mirren and Cillian Murphy, which is in post-production, and Thomas Vinterberg's submarine drama Kursk, which is completed.
TV projects
EuropaCorp said it is developing a number of English-language TV series, which it hoped would prove as successful as its Taken TV series spin-off.
Projects in development include AI, based on an original idea from Besson and revolving around the theme of artificial intelligence, and Gray, based on an idea by bestselling US writer David Baldacci.
It is also developing a TV series inspired by Jacques Tardi's comic book The Extraordinary Adventures Of Adele Blanc-Sec, which Besson previously bought to the big screen in 2010.
The company is also developing a series called American Flagg!, inspired by Howard Chaykin's sci-fi and political satire comic book series of the 1980s.