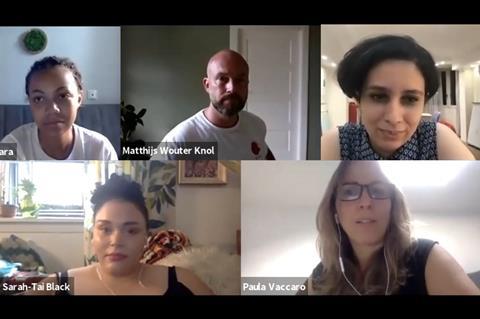 The European film industry needs to reckon with its own racism and evolve its attitudes to people of colour, according to a panel of speakers at Sarajevo's CineLink Talks.
While the Black Lives Matter movement was born out of the US, it is Europe that is "the mother of the problem," according to UK producer Paula Vaccaro (On The Milky Road).
Vaccaro, who curated and moderated the session, said: "It's curious how, in Europe, we hear so many times that this is not our problem. But in some ways Europe is the mother of the problem – this trauma was started from Europe."
Matthijs Wouter Knol, outgoing director of Berlin's European Film Market and incoming director of the European Film Academy, said: "It starts with understanding what we're actually talking about and admitting that, yes, Europe has a large role to play and has played a key role in keeping the system the way it is and initiating it in many ways."
For people of colour working in the film industry, he added that there needs to be awareness of the wider "system in Europe in which these people are not supported, or actually not even seen… I think, in many countries, people will say there is no racism in the film industry and that's not true."
In a year when the film industry has been forced to make changes due to the pandemic, Wouter Knol said he hoped there will be more equality during the recovery.
"There are talks happening between a number of European organisations at the very moment and I hope they will continue to see how, in the next couple of years, we can put [racial equality] more on the agenda the way diversity has been put on the agenda in the past couple of years."
Russian activist and influencer Maria Magdalena Tunkara said she had experienced a sort of gaslighting, having been told there is no racism for her to confront in Russian society but expressed hope that this is now changing.
"For several months, people have started talking about racism," she said. "That's great because, before that, this problem had been silenced in our society. Also, there is little information about racism in the Russian language. It's hard to find any information."
MENA's lack of gender equality
Egyptian filmmaker Nada Riyadh spoke about two realities: dealing with the misogyny that is not acknowledged in the MENA film industry; and discussions with potential European co-producers on her films have not done their "homework about the production reality in my own country, and about gender when it comes to dealing with sensitive topics about racism or refugees in terms of distribution in this region."
"It's actually quite hard to get people to listen to the fact that the film industry in Egypt or in the MENA region is not a place where we have gender equality," she said, and a lack of data makes it harder to prove that point to some people.
She was encouraged at the start of this year that a group was building a feminist network in the MENA film industry. It is on hold because of the virus crisis but she hopes it will provide a "great step towards sharing perspectives and figuring out how to make this this problem come to light."
Need for evolution
Programmer Sarah-Tai Black, of Toronto's Royal Cinema, said that structures and institutions must evolve.
"I think it's become clear in the ways in which a lot of racialized voices are getting louder about the harm and struggles they've enjoyed in these institutions," she said. "That work can't just be done by one person."
Vaccaro mentioned Jemma Desai's recent paper This Work Isn't For Us as an important read about BIPOC (black, indigenous and people of colour) working in UK film and cultural institutions.
Black expressed that change has to be long-lasting. "There's some learning happening, which is always good, but at the same time, I'm remiss to give any praise to this current moment," she said. "There's an archive of this history, which we have reappearing and repeating itself over and over again."
She wonders if some of the current discussions are just optics after BIPOC people have called out institutions. "Is it activism, or is it PR work?," asked Black. "Because if it was activism, we would see a lot more people with power leaving their roles, redistributing resources rather than this idea of rehabilitation."
Black's advice to those who want to become anti-racist is: "Be teachable."
Vaccaro ended the session with some calls to action: "I think the mantra for this is radical support or nothing. Ask yourself if you are the right person to tell that story."
"If you work for or are supported by any institution or organisation that is white-led and powerful, if your role in this ecosystem has been shaped and provides opportunities… ask yourself if the space you're occupying is yours to claim, or if you can support another person who is not in a privileged position and bring them inside and take a sidestep."