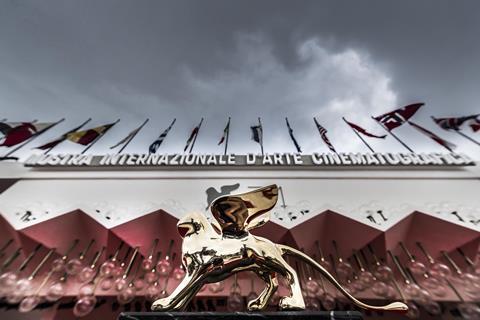 Eight artistic directors from Europe's leading film festivals are to unite in solidarity at the upcoming Venice Film Festival.
The leading figures will attend the opening night on September 2 and each read from a shared document over the course of the evening in support of cinema and festivals.
They include Thierry Fremaux (Cannes), Alberto Barbera (Venice), Carlo Chatrian (Berlinale), Lili Hinstin (Locarno), Vanja Kaludjercic (Rotterdam), Karel Och (Karlovy Vary), José Luis Rebordinos (San Sebastian) and Tricia Tuttle (London).
A statement from Venice said the eight directors "will come up on the stage of the Sala Grande, to read a shared document that reasserts the fundamental value of cinema, and the role and importance of festivals in the support and promotion of cinema from all over the world, and European cinema in particular."
"Festivals – they will reaffirm – are not mere promotional showcases to highlight the best of authors' and filmmakers' creativity, but are increasingly becoming centres of culture, places of education at the service of young directors, opportunities for the cultural enlightenment of audiences and for education to beauty and to the richness of the film experience for young people," it added.
Venice is pressing ahead from September 2 to 12 with Covid-19 safety measures in place and is the first major film festival to go ahead as a physical event since global lockdown measures were imposed in the wake of the outbreak.
Festivals such as Rotterdam and the Berlinale had already taken place, in January and February respectively, but Cannes was cancelled and its market activity moved online. Over the summer, several festivals have been cancelled, postponed or gone ahead online. The BFI London Film Festival is due to take place in October as a hybrid online-physical event while Toronto and San Sebastian and going ahead next month with Covid-19 measures in place.