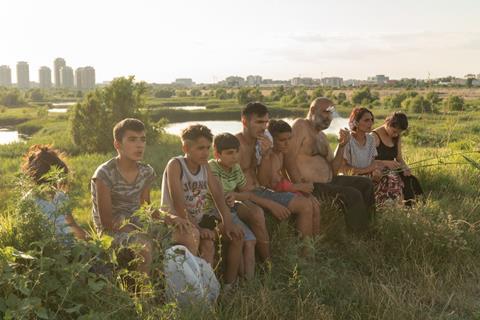 The 13 documentaries up for the 2020 European Film Awards have been announced.
Scroll down for full list of titles
There are 14 European countries represented in the selection and EFA members will now vote for a shortlist of five.
The titles include Radu Ciorniciuc's Acasă, My Home, which won the cinematography award when it debuted at Sundance in January, and Alexander Nanau's Collective, first seen at Venice at Toronto last year and winner of Zurich's top Golden Eye prize.
Others include Sergei Loznitsa's State Funeral, which also debuted at Venice and Toronto, and The Earth Is Blue As An Orange, which won filmmaker Iryna Tsilyk the Sundance directing award.
Oscar and four-time Emmy nominee The Cave by Feras Fayyad is also among the selection as well as Janna Ji Wonders' Walchensee Forever, which won the Compass-Perspektive award at the Berlinale
The European Film Academy previously announced the first wave of feature films considered for nomination.
Nominations will be announced on November 7 at the Seville European Film Festival and the 33rd European Films Awards is set to take place on December 12 in Reykavik, Iceland.
Acasă, My Home (Rom-Ger-Fin)
Dir. Radu Ciorniciuc
Collective (Rom-Lux)
Dir. Alexander Nanau
I Am Not Alone (Arm)
Dir. Garin Hovannisian
Little Girl (Fr)
Dir. Sébastien Lifshitz
Once More Unto The Breach (It)
Dirs. Federico Ferrone, Michele Manzolini
Saudi Runaway (Swi)
Dir. Susanne Regina Meures
Self Portrait (Nor)
Dirs. Margreth Olin, Katja Hogset, Espen Wallin
State Funeral (Neth-Lit)
Dir. Sergei Loznitsa
The Cave (Syr-Den)
Dir. Feras Fayyad
The Earth Is Blue As An Orange (Ukr-Lit)
Dir. Iryna Tsilyk
The Euphoria Of Being (Hun)
Dir. Réka Szabó
They Call Me Babu (Neth)
Dir. Sandra Beerends
Walchensee Forever (Ger)
Dir. Janna Ji Wonders