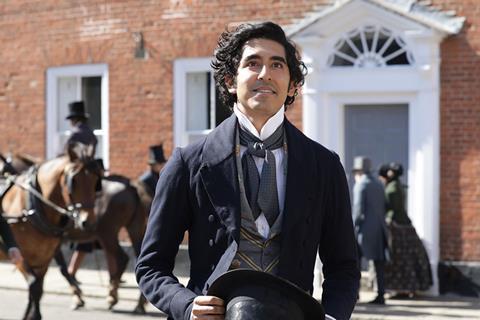 The first 32 features up for the 2020 European Films Awards have been announced with a second wave of "pandemic year" titles due to be revealed in September.
Scroll down for first selection of films
The titles include Armando Iannucci's The Personal History Of David Copperfield and Viggo Mortensen's Falling as well as Berlinale award-winners Undine, by Christian Petzold; Hidden Away, by Giorgio Diritti; Bad Tales, by the D'Innocenzo Brothers; Dau. Natasha, by Ilya Khrzhanovskiy and Jekaterina Oertel; and Delete History, by Benoît Delépine and Gustave Kervern.
The European Film Academy has split the announcement in two for the first time to account for the Covid-19 outbreak, which saw cinemas closed around the world and the release of films postponed or pivoted online.
As previously announced, films that premiered online as a result of the coronavirus pandemic will be eligible for the EFAs for the first time. This will allow the inclusion of films that would have premiered by May 31 – at a festival or cinema – but could not due to the virus crisis, provided they will premiere theatrically or online before the end of November.
Together, both parts will form the EFA Feature Film Selection, which are recommended for a nomination for the 33rd European Films Awards, due to take place on December 12 in Reykavik, Iceland.
In the coming weeks, more than 3,800 EFA members will screen the selected films and, after part two has been announced, vote for the nominations in the categories European film, director, actor, actress and screenwriter.
The nominations will be announced on November 7 at the Seville European Film Festival. An eight-member jury will decide on the award recipients for European cinematography, editing, production design, costume design, make-up and hair, original score, sound and visual effects.
EFA Feature Film Selection 2020 – Part 1
Adults In The Room (Fr-Gre)
Dir. Costa-Gavras
Atlantis (Ukr)
Dir. Valentyn Vasyanovich
Bad Tales (It-Swi)
Dirs. Damiano and Fabio D'Innocenzo
Berlin Alexanderplatz (Ger-Neth)
Dir. Burhan Qurbani
Between Heaven And Earth (Pal-Lux-Ice)
Dir. Najwa Najjar
Cat In The Wall (Bul-UK-Fr)
Dirs. Mina Mileva and Vesela Kazakova
Charlatan (Cze-Ire-Pol-Slo)
Dir. Agnieszka Holland
Charter (Swe-Den-Nor)
Dir. Amanda Kernell
Corpus Christi (Pol-Fr)
Dir. Jan Komasa
Dau. Natasha (Ger-Ukr-UK-Rus)
Dirs. Ilya Khrzhanovskiy and Jekaterina Oertel
Delete History (Fr-Bel)
Dirs. Benoît Delépine and Gustave Kervern
Echo (Ice-Fr)
Dir. Rúnar Rúnarsson
Falling (UK-Can-Den)
Dir. Viggo Mortensen
Father (Serb-Ger-Fr-Cro-Slo-B&H)
Dir. Srdan Golubović
Final Report (Hun)
Dir. István Szabó
Hidden Away (It)
Dir. Giorgio Diritti
Hope (Nor-Swe)
Dir. Maria Sødahl
Let There Be Light (Slo-Cze)
Dir. Marko Škop
Martin Eden (It-Fra)
Dir. Pietro Marcello
Mother (Sp-Fr)
Dir. Rodrigo Sorogoyen
Motherland (Lith-Lat-Gre-Ger)
Dir. Tomas Vengris
My Little Sister (Swi)
Dirs. Stéphanie Chuat and Véronique Reymond
Persian Lessons (Rus-Ger-Bela)
Dir. Vadim Perelman
Servants (Slo-Rom-Cze-Ire)
Dir. Ivan Ostrochovský
The Endless Trench (Sp-Fr)
Dirs. Aitor Arregi, Jon Garaño and Jose Mari Goenaga
The Painted Bird (Cze-Ukr-Slo)
Dir. Václav Marhoul
The Personal History Of David Copperfield (UK-US)
Dir. Armando Iannucci
The Platform (Sp)
Dir. Galder Gaztelu- Urrutia
Undine (Ger-Fr)
Dir. Christian Petzold
Uppercase Print (Rom)
Dir. Radu Jude
Vitalina Varela (Por)
Dir. Pedro Costa
Wildland (Den)
Dir. Jeanette Nordahl