SCREEN FILM SUMMIT: Event cinema will be the "saviour of cinema", according to Curzon Artificial Eye CEO Philip Knatchbull, and Lionsgate UK's CEO Zygi Kamasa, who called it "the future of cinema".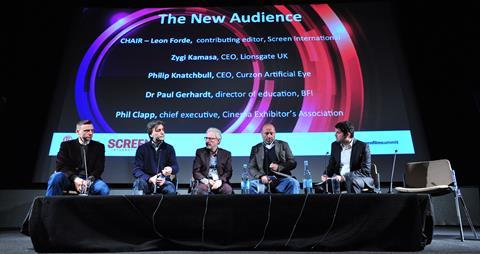 Speaking on the Screen Film Summit's New Audience panel at the BFI Southbank today, Knatchbull and Kamasa noted the success of the Dr Who 50th anniversary special which took $2.3m theatrically on a Saturday night (Nov 23) alone despite being freely accessible on TV at the same time.
"This is a massive part of our business," said Knatchbull. "We're building out new venues all around the UK and we're telling our designers to focus on this, to design the venues so they feel accessible to the younger generation from this perspective."
Kamasa also noted that the free-to-air BBC-made Dr Who: The Day of The Doctor was a big step forward for event cinema, which previously had focused on paid-for events such as opera and theatre, and proved the demand exists for experience viewing.
Also speaking on the panel was Dr Paul Gerhardt, the BFI's Director of Education, and the Cinema Exhibitors Association CEO Phil Clapp.
All panelists noted that the recent strong growth in the VOD sector had changed the audience landscape and how they programmed and marketed to it.
Knatchbull noted that "as a company we're using the cinema release to generate the market for the film that comes on demand straight away."
Kamasa, whose Batchelorette went out day-and-date, warned, however, against day-and-date VOD releases being considered as "a second or third choice or a burial ground for failed theatrical releases."
He said: "I feel the VOD marketplace in the US is 18 months ahead of the UK, I don't think we're quite there yet. The economics on Batchelorette were strong and if we see growth in that area it's something we'll carry on doing, but we need to understand – distributors, exhibitors, producers, everyone – that it's not a B-area for films not considered strong enough for theatrical release."
Kamasa also stressed that while Lionsgate, for example, has "seen the biggest growth in the last 12 months of all our titles in VOD, we are seeing simultaneously a big decline in video revenue and it still hasn't replaced the loss we made on DVD so it's a shift so far, rather than an actual growth in business. The audience broader than it was 12 months ago, still quite young, but broader."
Knatchbull and Kamasa noted that social media-based marketing campaigns are starting earlier and, as a result, are costing more money.
Said Kamasa: "Social media has become so prevalent, people know and understand about movies way before they come out – it's harder than ever to get an audience to see an average film. You cant make anything that's derivative or been seen before, so we strive harder than ever to find original content."
CEA's Clapp said: "One of the problems in the exhibition sector - reflected in the fact that exhibition will be slightly down this year - is finding product to speak to the wider demographic. Studios have been timid in their approach, relying on sequels, reboots, and we haven't grown the pie."
Knatchbull explained that as a company, Curzon Artificial Eye has taken the approach that the "old business model is completely broken – the changes the music industry were forced to go through are ones that the film industry is tackling right now and will dictate the success of what happens going forward.
"As a company we have taken the decision that we have to find our audience and hold on to them – to connect the rather soul-less experience of social network with the soulful experience of going to the cinema."