EDINBURGH: Scottish actor gives talk about 22-year acting career including new role as Jesus in Last Days In The Desert.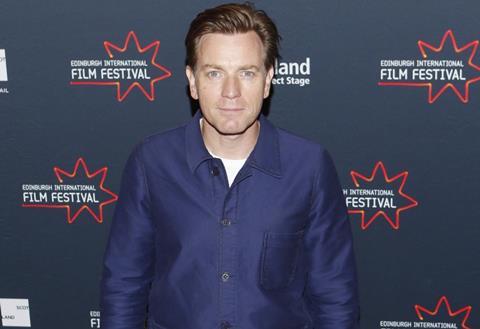 Ewan McGregor revealed to an audience at the Edinburgh International Film Festival (EIFF) on Sunday that he would be willing to reprise the role of Obi-Wan Kenobi to tell the story of Stars Wars between A New Hope and The Empire Strikes Back should Disney ever wish to do so.
The comments came during an on-stage interview in which the Scottish star looked back over the highlights of his career thus far and chose his words carefully on the subject of the forthcoming Star Wars Episode VII: The Force Awakens.
The actor seemed not to be the most rabid of fanboys and declared: "I'm not a fanatical person."
Still, he said he was impressed by the trailer - "It looks like [JJ Abrams] he absolutely nailed it" - except for the lightsaber's updated design.
"I'm excited about it a much as anyone else. I'm part of the legacy of it, and I'm happy to see it."
He said he'd love to tell the story between Episodes III and IV - A New Hope and The Empire Strikes Back - if Disney ever wanted to do that.
McGregor portrayed the young Obi-Wan Kenobi in the first three episodes of Star Wars, released from 1999-2005.
Family affair
If he wasn't already beloved enough in his native Scotland, McGregor charmed a huge crowd at EIFF in a funny and honest conversation with Scottish radio DJ Edith Bowman about his 22-year acting career.
McGregor made it a family affair, bringing along his mother Carol and his uncle, fellow actor Denis Lawson.
McGregor said when he was growing up in the conservative small town of Crieff, his uncle seemed exotic when he turned up wearing a sheepskin waistcoat and beads.
"I wanted to be an actor since I was nine because of my uncle Denis… when I was six I went to see him in Star Wars - Star Wars! - and it blew my brains apart."
McGregor was also in Edinburgh to present his most recent film, Rodrigo Garcia's Sundance selection Last Days In The Desert in which he plays Lucifer and Jesus.
"It's so beautifully written," McGregor said, adding with a laugh. "And in some of the scenes I got to play with myself, and that's something I enjoy."
He explained that in the scenes where he plays both characters he had Australian actor and filmmaker Nash Edgerton acting against him. "You do get the sense there are two different people," he said proudly of the results.
"It's quite scary the idea of playing Jesus Christ," he added. "He's a very important person to a great many people and there's a huge responsibility to it."
Garcia's script, he said, got him in the right mindset of a man wanting to talk to his father – in this case, God. "He wants to talk to his dad. He's trying to find those answers," he said.
McGregor has also been filming the part of Lumiere in Disney's Beauty & The Beast directed by Bill Condon "I liked it very much; it's mostly sound work with animation." There were about three days of shooting live-action alongside a cast including Emma Thompson, Stanley Tucci and Ian McKellen, "We all had a great time."
The actor enjoyed recording the song "Be Our Guest" for the film, even if he was joking that his French accent wasn't up to snuff. "I had to do a French accent. I've lived around a French accent for 20 years [his wife is French], but I couldn't do it – I sounded Mexican," he said with a laugh and a quick impersonation.
Directorial debut
McGregor is also embarking on a new chapter in his career as he gears up to direct his first feature, an adaptation of Philip Roth's American Pastoral.
He starts prep in Pittsburgh on July 6 and principal photography in September on the Lakeshore Entertainment project.
The Pulitzer-winning novel is about a high school athletics star who grows up to inherit his father's business and marry a former beauty queen, only for their lives to fall apart when their daughter commits an act of political terrorism during the Vietnam War.
He is looking forward to working with a cast that includes Jennifer Connelly and Dakota Fanning. "I know how it feels best to be directed. I've been doing it for 22 years and no two directors are the same," he said.
McGregor said that creative collaboration was the key for him. "It's the difference between enjoying your work and not. A creative conversation with everyone on set is what makes movies special."
Top collaborators
He spoke about career highlights such as shooting his first feature film Shallow Grave (1994) with Danny Boyle in Edinburgh and Glasgow.
"It defined who I was as an actor [working with Boyle and producer Andrew Macdonald and writer John Hodge]. I'm still looking for that connection and that trust."
He hopes to work with Boyle again and said any past issues the actor and director experienced are "water under the bridge now." He has told Boyle he would be happy to appear in a Trainspotting sequel should it ever happen.
Of his Moulin Rouge! director Baz Lurhmann he said: "He dreams the biggest of stories."
He revealed working with Roman Polanski on The Ghost Writer (2010) was tricky at first. "He's such a great director, he micromanages every performance. He has an absolute picture of how he wanted everything to be," going so far as to rearrange books on a shelf that would not even be in focus in a shot. "It's quite tough working with him but I learned to love working with him. It works."
Of David Mackenzie, who directed him in Young Adam, he said, "He's an amazing filmmaker; there's a darkness in his work and it's hard to imagine how he mines that. Young Adam is one of my favourite films I've been in.
When asked about the great roles that had eluded him so far, he mentioned that he had always fancied taking on the lead role of Stephen Wraysford in an adaptation of Sebastian Faulks' Birdsong. The project has not been made for the big screen but was shot as a two-part TV drama in 2012 with Eddie Redmayne in the role.
McGregor also spoke lovingly about Peter Capaldi's The Jacobite Slipper (aka Born To Be King or The Great Pretender), which he said was one of the best scripts he had ever read.
"It's a British comedy about British comedy," he said. The film has been discussed for years but never greenlit. McGregor said he might be too old now to take the lead role as a Scottish star in a Hollywood film about Bonnie Prince Charlie and the extra who resembles him, but he still hope it gets made.
Asked for the best advice for a young actor, he said, "I should say what Mick Jagger said, which is 'Don't sleep with the producer.' But that's not actually very good advice… The best advice is to do it. Work. You can make a movie on your phone. Just do it, keep doing it."