McGregor was talking at a London Q&A for his directorial debut American Pastoral, with Danny Boyle hosting the event.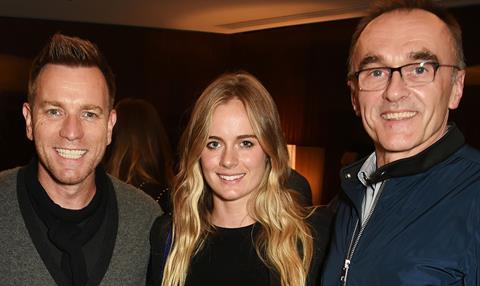 Having completed American Pastoral, which marks his directorial debut, Ewan McGregor is already looking to direct again. His second feature is likely to be on a smaller scale than the Philip Roth adaptation – and may well shoot in Scotland.
"I had quite a lot of money on American Pastoral. I had Jennifer Connelly, Dakota Fanning – these amazing actors and this backing from Lakeshore… I would like to do something small with young people next," the Scottish actor and film-maker said during a Q&A following a screening of the film at London's Bulgari hotel on Saturday (Oct 8), which was hosted by Trainspotting and T2 director Danny Boyle.
During the event, McGregor also brushed aside the idea raised during a recent European press tour that it was strange for a Scottish director to be tackling such quintessentially American subject matter.
McGregor recalled being asked on several occasions why, "as a Scottish person", he felt the right person to make the movie. His response was always to refer to Boyle and Trainspotting.
"Danny Boyle is not Scottish and he directed one of the most Scottish films in the world. I don't think it matters, our nationality and parental status. I don't think it should make a difference to what we do."
Philip Roth
McGregor also revealed that renowned American novelist Philip Roth has given the thumbs up to the film adaptation of Roth's Pulitzer Prize winning novel.
McGregor confirmed that the 83-year-old writer has now watched the film, which premiered at TIFF last month and will be released in the US by Lionsgate on October 21, and by Entertainment Film Distributors in the UK on November 11.
"He [Roth] watched it about three or four weeks ago in New York. It was shown to just him alone. He sent an email to his agent in which he said please share this with the producers."
"He said that he liked the film," continued McGregor. "I shouldn't quote the email because he hasn't gone public about it but it was very positive. He was specific about some of the performances in the film. He talked about the reduction from the novel to the film and how that was done well, he thought."
Some critics have referred to American Pastoral as an "unfilmable novel". The story follows "Swede" Levov (played by McGregor), a high-school sports star running a successful manufacturing business and seemingly leading the perfect life. His world is shattered by the behaviour of his daughter Merry (Dakota Fanning), who becomes part of the 1960s counter-culture during the Vietnam war and commits an act of terrorism.
Boyle, who has just finished directing McGregor in Trainspotting sequel T2, said he was "crying at the end" of American Pastoral, which he had already seen once during the editing stages.
McGregor had nine months to prepare for the film and consulted several filmmakers for advice, among them Boyle and Ben Affleck. He cited Andrey Zvyagintsev's Leviathan and Ruben Östlund's Force Majeure ("the framing is very still and the acting tells the story") as influences on his unflashy shooting style.
McGregor began shooting the Trainspotting sequel immediately after completing the editing on American Pastoral.
"I did my last day of the sound mix on American Pastoral on the Friday and I flew to Scotland on the Monday to start Trainspotting 2. I remember driving home from the sound mix feeling lighter. I had never had such responsibility for so long."