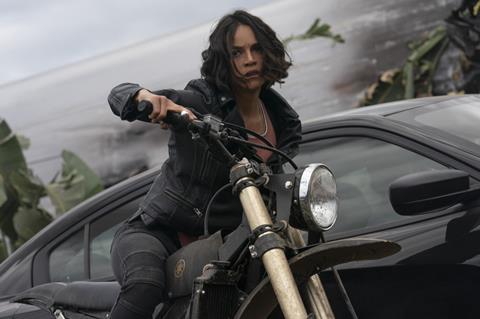 Universal's F9 has raced past $100m in China and reached $127m at the international box office through Saturday (May 22), pushing the Fast franchise past the $6bn global mark.
The tentpole continued to break records and remains on track for a $160m-plus opening weekend from eight markets.
China has delivered $105m (680m RMB) through Saturday and after two days of release sources said it was on course to become the studio's second biggest opening weekend of the action franchise behind F8, which still holds the record for the biggest three-day launch by a Hollywood film on 1.3bn RMB.
F9 launched in China on Friday on $59.1m in the second biggest opening day of the pandemic behind Detective Chinatown 3.
It earned $5.5m on IMAX screens for the biggest IMAX opening day of the series in China, claiming 9.4% of the total gross from 1% of total allocated screens.
This is the biggest IMAX debut for the franchise and a Universal title, and the fifth biggest opening day for any film in China.
The tentpole launched in South Korea on Wednesday and is looking like it will deliver the biggest opening weekend of the pandemic in the territory.
It has produced $7.7m from its first four days, and scored the biggest opening day of the franchise and the pandemic, as well as Universal's third biggest opening day.
F9 has grossed $6.4m in Russia through Saturday where it is also on track for a record pandemic weekend. Wednesday previews of $1.4m led to the biggest Wednesday preview day of all time
In the Middle East F9 has amassed $5.5m through Saturday. Universal sources estimate $2.3m in Saudi Arabia through Saturday alone is the biggest opening weekend of all-time
The tentpole has delivered $2.3m in U.A.E. for the biggest opening of the pandemic, and the biggest opening weekend of the pandemic in Egypt.
Finally Hong Kong has delivered $2.2m through Saturday, which besides already being the biggest opening weekend of the pandemic has produced a record franchise opening day, the studio's biggest opening day in the market, and the biggest opening day and single day of 2020 and 2021 to date.
F9 will continue its roll-out in 62 international markets after the first wave, with major markets including Australia on June 17, Latin America and the UK along with North America on June 25, and Spain, France, and Germany throughout July.