Warner Bros' Harry Potter spin-off records huge $11.06m (£8.9m) second weekend for $38.3m (£30.79m) to date.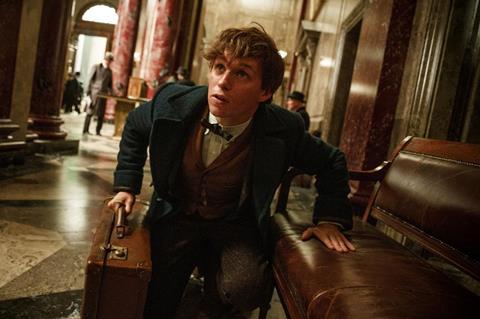 UK TOP FIVE
| Ranking | Film/Distributor | Weekend gross | Running total |
| --- | --- | --- | --- |
| 1 | Fantastic Beasts (WB) | $11.06m (£8.9m) | $38.3m (£30.79m) |
| 2 | Allied (Paramount) | $1.65m (£1.33m) | $1.65m (£1.33m) |
| 3 | Trolls (Fox) | $1.04m (£830,559) | $27.2m (£21.79m) |
| 4 | Bad Santa 2 (eOne) | $992,000 (£799,156) | $992,000 (£799,156) |
| 5 | Arrival (eOne) | $966,000 (£778,621) | $9.05m (£7.29m) |
(Note - Dollar conversions are based on today's rates)
WARNER BROS
Fantastic Beasts And Where To Find Them followed up its magical opening in style as it retained the lead at the UK box office.
Warner Bros' Harry Potter spin-off conjured up one of the biggest second weekends of all time, falling only 42% with a confirmed $11.06m (£8.9m) for $38.3m (£30.79m) to become the tenth film of 2016 to hit the £30m mark.
That's a bigger second weekend than all of the Harry Potter instalments, except for Goblet Of Fire's $12.74m (£10.22m), and came close to surpassing the sixth-biggest second weekend of all time, Quantum Of Solace's $11.64m (£9.33m).
Moana arrives to provide family competition this Friday (December 2), but after taking almost $7.48m (£6m) across its first Mon-Thurs, there's every chance Fantastic Beasts could be near £40m by next Sunday (December 4). It's already the tenth biggest hit of the year.
Also for Warner Bros, The Accountant has accumulated $6.33m (£5.07m) following a $199,000 (£159,000), while Storks has now flown to $8.23m (£6.59m) after seven weeks in play.
PARAMOUNT
Allied may not have been able to come close to Fantastic Beasts, but was the week's highest new entry in second.
Paramount's romantic thriller posted a non-final UK bow of $1.65m (£1.33m) from its 502 sites. That's ahead of Robert Zemeckis' last film, The Walk's $987,000 (£795,115) from 481 sites, but behind his other recent effort, Flight's $1.74m (£1.4m) from 387 sites.
FOX
Trolls fell a slim 33% on its way to a non-final $1.04m (£830,559) sixth weekend.
Fox's latest DreamWorks Animation outing is now up to a healthy $27.2m (£21.79m) in the UK and has now overtaken Monsters Vs Aliens, with Madagascar's $28.3m (£22.65m) next in its sights.
Also for Fox, Pathe's London Film Festival opener A United Kingdom recorded a UK bow of $761,000 (£609,293), including $61,000 (£49,000) in previews, from its 422 sites.
That's down on the $1.92m (£1.54m) opening Fri-Sun tally for Suffragette last year, but does mark director Amma Asante's best-ever UK bow, topping Belle's $508,000 (£406,896) from 408 sites.
Miss Peregrine's Home For Peculiar Children stands at $15.3m (£12.25m).
EONE
Bad Santa 2 arrived in fourth on its UK debut thanks to its five-day opening.
eOne's comedy sequel delivered a non-final $992,000 (£799,156), including $256,000 (£206,491) in previews, from its 425 sites. Its Fri-Sun tally of $735,000 (£592,665) would have seen it chart fifth.
The debut is up on Bad Santa's $589,000 (£474,450) bow, but it's worth noting that it was released 12 years ago and played in fewer sites at 277. It went on to take $3.03m (£2.44m) in the UK.
Also for eOne, Arrival fell 47% with a $966,000 (£778,621) third weekend for $9.05m (£7.29m) to date. It will shortly become director Denis Villeneuve's best-ever UK performer, currently Prisoners' $9.06m (£7.3m).
The Girl On The Train, I, Daniel Blake and The BFG stand at $29.2m (£23.57m), $3.67m (£2.96m) and $37.9m (£30.57m), respectively.
DISNEY
Falling 52% in its fifth weekend, Disney's Doctor Strange added $564,000 (£451,306) for $27.8m (£22.28m) to date, and will end its run as the sixth biggest Marvel outing to date.
CINEMALIVE
Following its record-breaking opening, CinemaLive's André Rieu: Christmas With André has now grossed $1.9m (£1.53m) in the UK, surpassing the $1.8m (£1.45m) result of Rieu's Maastricht Concert 2016.
There are still 30 cinemas to encore the performance before Christmas.
SODA PICTURES
Paterson travelled to a UK debut of $212,000 (£169,912), including $50,000 (£40,000) in previews, from its 61 sites through Soda Pictures.
That marks a decent site average of $3,479 (£2,785) and the film will hope to capitalise on strong reviews to post healthy midweek numbers.
SONY
Falling 65% in its fourth weekend, Sony's A Street Cat Named Bob grossed $161,000 (£129,000) for a solid $4.87m (£3.9m) to date.
UNIVERSAL
In its fourth weekend, Universal's Nocturnal Animals took an extra $113,000 (£91,089) for $3.36m (£2.7m) to date. It's unlikely to catch A Single Man's $4.02m (£3.24m) result.
Also for Universal, Almost Christmas could only manage a UK debut of $75,000 (£60,782) from its 121 sites, an average of $623 (£502).
NATIONAL AMUSEMENTS
Your Name enjoyed a huge boost in its second weekend, taking $83,000 (£66,339) from only 20 sites.
National Amusement's release of the Japanese box office smash has now amassed $255,000 (£204,387) and its $4,144 (£3,317) site average was the second-highest this weekend, behind only Fantastic Beasts.
Last Thursday (November 24), Your Name enjoyed the biggest single day for an anime at the UK box office with $135,000 (£108,372) from 104 sites.
UPCOMING RELEASES
This week sees saturation releases for eOne's The Edge Of Seventeen (opens November 30), Disney's Moana, Warner Bros' Sully and Icon Film Distribution's Bleed For This.
Lionsgate's Molly Moon And The Incredible Book Of Hypnotism, Curzon Artificial Eye's The Unknown Girl and Vertigo Releasing's Chi-Raq are among the films receiving a limited release.