Paramount's Mission: Impossible - Rogue Nation leads over Fri-Sun with $3.7m (£2.4m); Universal's Jurassic World becomes the eighth biggest film of all time with $97.9m (£63.32m).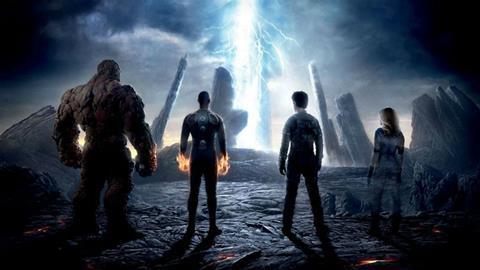 FOX
Boosted by its previews on Thursday [Aug 6], Fantastic Four dethroned Mission: Impossible - Rogue Nation to debut top of the UK box office.
Fox's reboot grossed $4.2m (£2.7m) from its 541 sites, including $1.3m (£817,192) in previews. Based solely on its Fri-Sun take of $2.9m (£1.9m), Fantastic Four would have charted third.
That's a debut behind Tim Story's 2005 take on the iconic superhero group which opened to $5.5m (£3.5m) from 406 sites, including $642,000 (£414,852) in previews, as well as its sequel which landed with $6.4m (£4.1m) from 475 sites.
Both of those films went on to take over £12m in the UK, a target that Fantastic Four could struggle to match given its poor critical reception.
Fantastic Four did at least manage to open higher than the $3.4m (£2.2m) bow of Josh Trank's directorial debut Chronicle, taken from 397 sites with $954,000 (£616,717) in previews. Chronicle went on to gross $10.7m (£6.9m).
Also for Fox, Secret Cinema's production of The Empire Strikes Back has now amassed $5.8m (£3.75m) after ten weeks of its run.
PARAMOUNT
It may have been knocked off the top spot, but Mission: Impossible - Rogue Nation did lead the UK market over Fri-Sun with $3.7m (£2.4m).
Paramount's latest mission for Ethan Hunt is now up to $17m (£11.02m) as it attempts to overtake Mission: Impossible ($28.8m/£18.65m) as the highest grossing outing of the series. The first target though is Mission: Impossible III's $23.9m (£15.45m).
Also for Paramount, Terminator Genisys is near the end of its UK run and has accumulated almost $17m (£11m).
DISNEY
Falling 46% in its third weekend, Disney's Inside Out added $3m (£1.95m) for $35.3m (£22.8m) to date, adding almost £6m over the past seven days.
In terms of Pixar outings in the UK, Inside Out has now overtaken Brave ($34.3m/£22.18m) and Toy Story ($34.8m/£22.5m), and will surpass Wall-E ($35.4m/£22.9m) today. Next in its sights will be Ratatouille's $38.4m (£24.8m).
Also for Disney, Ant-Man dropped 50% on its way to $866,000 (£560,000) for $22.3m (£14.4m) after four weeks in play. As expected, it has now overtaken Thor's $21.7m (£14.04m) UK result.
ENTERTAINMENT
Southpaw continued its healthy run with a $1.2m (£792,195) third weekend to drop one place to fourth.
Entertainment's boxing drama has now taken $8.9m (£5.75m) and has a great shot at becoming director Antoine Fuqua's best-ever UK performer, currently King Arthur's $10.9m (£7.07m) result.
LIONSGATE
Following strong reviews, Lionsgate's The Gift opened to a promising $904,000 (£584,293) from its 334 sites, marking a decent site average of $2,714 (£1,755).
Joel Edgerton's feature directorial debut will hope to avoid the fast-burn nature of genre films at the UK box office, and good word-of-mouth could see it enjoy a healthy run.
UNIVERSAL
Minions is starting to slow down, falling 49% with a $794,000 (£513,000) seventh weekend.
Universal's animated spin-off is now up to $64.7m (£41.8m) and is still tracking ahead of Despicable Me 2 ($61.8m/£39.98m at same stage), but it did record a seventh weekend almost double that of Minions.
Also for Universal, Jurassic World is now the eighth biggest film of all time in the UK with $97.9m (£63.32m) following a $275,000 (£178,000) weekend.
Ted 2 stands at $15.2m (£9.84m) after five weeks in play.
ALTITUDE
Having become the highest-grossing British documentary of all time on Friday [Aug 10], Altitude's Amy added $147,000 (£95,395) to stand at an excellent $5m (£3.25m).
It still stands a chance of ending its run as the second highest grossing non-concert feature documentary of all time, currently March of the Penguins' $5.1m (£3.31m).
Also for Altitude, Marshland recorded a non-final UK bow of $60,000 (£38,885), including previews, from its 32 sites.
VERTIGO FILMS
Despite its audience-limiting 18 certificate, Vertigo Films' The Diary of a Teenage Girl enjoyed a solid start to its UK run with $126,000 (£81,185) from its 80 sites, including previews.
WARNER BROS
Dropping a hefty 70% on its opening, Warner Bros' Hot Pursuit took just $104,000 (£67,000) for a ten-day tally of $1.1m (£707,000).
Also for Warner Bros, Max landed with a soft $59,000 (£38,000) from its 118 sites to mark director Boaz Yakin's lowest-ever UK debut, while Magic Mike XXL has amassed $10.6m (£6.82m) to date.
ICON FILM DISTRIBUTION
Playing in 62 sites in its third weekend, Icon Film Distribution's The Legend of Barney Thomson added $73,000 (£46,960) for $852,000 (£549,835) to date.
PICTUREHOUSE ENTERTAINMENT
Glyndebourne Festival Opera's production of The Rape of Lucretia grossed a non-final $46,000 (£29,796) from its 49 sites through Picturehouse Entertainment.
CURZON ARTIFICIAL EYE
Manglehorn opened with $23,000 (£14,756), including previews, from its 23 sites through Curzon Artificial Eye.
It did at least avoid becoming director David Gordon Green's lowest UK bow which remains Prince Avalanche's $18,000 (£11,569) from 16 sites.
PECCADILLO PICTURES
Including previews of $2,100 (£1,324), Peccadillo Pictures' critically acclaimed 52 Tuesdays took $10,000 (£6,428) from its 15 sites on its UK bow.
ARROW FILMS
Released in seven sites, Arrow Films' Hard to Be a God posted a UK debut of $4,500 (£2,894) with London's ICA its top-grossing venue.
UPCOMING RELEASES
A busy window sees saturation releases for Sony's Pixels (opens Aug 12, following previews this weekend), Universal's Trainwreck, Warner Bros' The Man from U.N.C.L.E., Lionsgate's Absolutely Anything and Fox's Mistress America.
eOne's Precinct Seven Five, Fox's Brothers and Metrodome's Pleasure Island are among the films receiving a limited release.