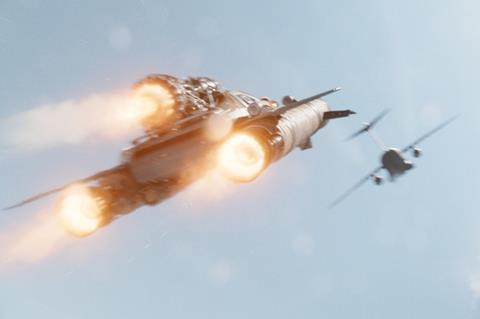 | Rank | Film (Distributor) | Three-day gross (Jun 25-27) | Total gross to date | Week |
| --- | --- | --- | --- | --- |
| 1 | Fast And Furious 9 (Universal) | £4.8m | £6m | 1 |
| 2 | Peter Rabbit 2: The Runaway (Sony) | £826,000 | £16.4m | 6 |
| 3 | In The Heights (Warner Bros) | £682,000 | £2.4m | 2 |
| 4 | A Quiet Place Part II (Paramount) | £593,000 | £9.6m | 4 |
| 5 | Cruella (Disney) | £463,231 | £7.8m | 5 |
GBP to USD conversion rate: 1.39
Fast And Furious 9 has set a new record opening for a film release in the UK and Ireland since the pandemic began, as the box office continues its strong performance since cinemas were allowed to reopen.
The Universal franchise title took £4.83m across its opening weekend, and £6m including previews. This tops the £3.27m weekend recorded by Warner Bros' Tenet – the prior peak during the pandemic - in August 2020, which took £5.3m including its pre-weekend screenings.
Fast And Furious 9 brought in an average of £8,125 from 595 locations – also ahead of the £5,358 average of Tenet. Including the Thursday opening, its location average was £10,104.
This figure is the lowest opening gross for a Fast And Furious title since 2006's The Fast And The Furious: Tokyo Drift, with £1.8m. However with 50% capacity restrictions still in place, it represents a very good result and a welcome sign of blockbuster potential for distributors and exhibitors alike.
Peter Rabbit 2: The Runaway continued its strong run for Sony, dropping just 26% on its sixth session with £826,000 and £16.4m cume. While far short of the £41.1m of the 2018 first film, this still represents a strong showing; it is currently the highest-grossing film in the territory since cinemas were allowed to reopen in the UK on May 17. Also for Sony, Monster Hunter fell 86% with £21,000 taking it to £235,000.
John Chu's New York-set musical In The Heights dropped 36.4% on its second weekend with £682,000 - a reasonable result in a competitive box office. The film is now up to £2.4m.
Also for Warner Bros, The Conjuring: The Devil Made Me Do It added £295,000 – a drop of 40.2% - on its fifth session, and is now up to £8.4m. It will fall slightly short of the £10.5m and £11m made by the first two Conjuring films; but that represents a decent result with social distancing measures still in place in cinemas. Godzilla Vs. Kong added £23,000 and has £2.6m total.
Paramount's A Quiet Place Part II continues to play well on its fourth weekend, falling 42% to £593,000 for fourth place in the chart and £9.6m total. It is just 3% below where the first film was at the same stage, which went on to £12.2m, so topping that is still a possibility for the sequel.
Disney's slate this weekend was lead by Cruella, which dropped 37% on its fifth session for £463,231 and £7.8m in total. Raya And The Last Dragon fell 58% with £27,362 and £711,088; while Nomadland fell 45% with £20,142, and will pass the £2m mark in the next couple of days.
For Lionsgate, The Hitman's Wife's Bodyguard dropped 56.8% on its second weekend to £446,546, and has £2.6m total (the first film took £7.3m). The distributor also has Oscar winner The Father, which dropped 62.8% with £133,291 bringing it to £1.6m total.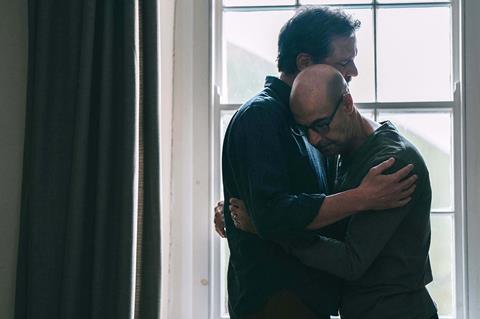 With final numbers still to come in, Studiocanal's Supernova opened to £192,888 from 352 locations – a £548 location average. Including previews and festival plays, it has £244,413, making it the highest-grossing title already for producer Emily Morgan of Quiddity Films; and with the possibility of setting a new high bar for fellow producer Tristan Goligher of The Bureau (his current peak is the £1.8m of 45 Years in 2015).
Altitude's animation Dogtanian And The Three Muskehounds opened to £114,000 from 480 locations for a £238 location average. With £98,000 of previews from last week added in, the film has £212,334 to date.
Fast And Furious 9 aside, Universal also has Nobody, which fell 71.8% to £56,446 and £1.2m total; and Ben Wheatley's In The Earth, which dropped 60% on its second session with £18,109 for £129,205 total.
Cannes 2020 label title Sweat opened to £4,107 at the weekend from 19 locations at an average of £216, with a cume of £4,655 including previews.