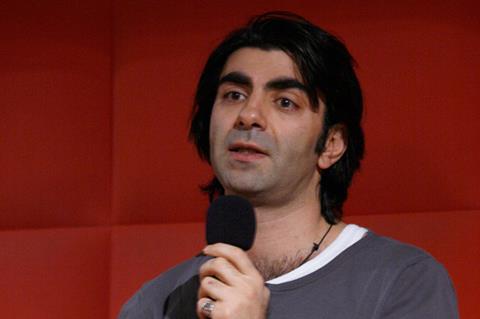 Fatih Akin's next feature, Amrum, will be the first project to come under his multi-year, first look deal with Warner Media.
The In the Fade director agreed a multi-year deal with Warner Media in March covering German and Turkish language movies and series for theatrical release, TV and for HBO Max. Akin and WarnerMedia have previously worked together on three movies.
Amrum is a collaboration with fellow Hamburg filmmaker and mentor Hark Bohm, and is based on the veteran director's childhood growing up on the North Sea island of Amrum.
Speaking exclusively to Screen following the world premiere of his latest film Rheingold at Filmfest Hamburg, Akin said that he is now working with Bohm on the screenplay.
Set in the spring of 1945 during the last weeks of the Second World War, the historical drama centres on the 10-year-old Nanning whose father is away fighting. He does everything he can to help his mother feed the family, hunting for seals, fishing at night, and working in the fields. However, the longed-for peace brings totally new conflicts and Nanning has to find his own path in life.
Akin and Bohm previously worked together on the screenplays for the German-Turkish filmmaker's 2016 film Tschick and his 2017 drama In The Fade which won Diane Kruger the Best Actress award at Cannes.
Hamburg's regional film fund MOIN announced on the eve of this year's Filmfest that Amrum has been awarded €400,000 production funding.
Another €400,000 has come from the Nordbuster financial instrument which was launched at the beginning of 2020 by the German office of Warner Bros with a total of €3m over three years from 2020 to 2022 to support feature films from the region.
"In actual fact, I was supposed to produce the film and Hark direct it, but the ravages of time are taking their toll, so to speak, [Bohm turned 83 this year]," said Akin. "So I agreed to also be the director. But it's a project from us both and I will approach directing it the way Hark would have done it."
"We will have to bring all the props to Amrum and you have to remember that much of it is a nature reserve, so I may have to use other parts of Germany as well for the shoot," Akin explained, adding that the 50-day shoot is ideally set to begin at the end of May/beginning of June 2023.
Marlene Dietrich series
Meanwhile, Akin's long-gestating plans to make a TV series about the life of Marlene Dietrich look to be progressing. UFA Fiction is teaming up with Akin's production company Bombero International to produce a five-parter based on the book Marlene Dietrich: The Life by Dietrich's daughter Maria Riva.
Kruger will serve as an executive producer on the project alongside Maria Riva and Scott Levenson who had already acquired the film rights to the book.
"The idea for the series came from Diane [Kruger] when she told me on the set of In The Fade that it has always been her dream to portray Marlene Dietrich," Akin recalled. "It immediately made sense to me because she is a German actress who has become a star in the US and France."
"Diane said that she would like to work with me on this project because our collaboration [during In The Fade] had been so unique - it was like two musicians playing drum and bass together, it worked so well," he added.
"I initially thought 'I make street films, what connection could I have with Marlene Dietrich?'"
But then he started reading up on Dietrich's life, beginning with Steven Bach's book Marlene Dietrich: Life and Legend on a particularly long flight to a film festival in Mongolia.
"Two striking elements caught my attention: Marlene, the immigrant going from Germany to America, and her anti-Fascist stand."
He admits that both he and his partner in Bombero, Nurhan Sekerci-Porst, were in agreement that their independent operation would be too small to tackle such a big project.
"The production of Rheingold was the limit of what we can manage ourselves, so we knew that we needed a bigger player and I'd always wanted to work with [UFA Fiction CEO] Nico Hofmann. And it's really cool that it should be a project about a UFA star!"
Bombero's upcoming projects
Bombero International celebrated its 10th anniversary earlier this year and was originally set up to work exclusively on Akin's own film projects.
However, Sekerci-Porst took the step to become involved in third-party projects by serving as co-producer on Indonesian auteur Edwin's Golden Leopard winner Vengeance Is Mine, All Others Pay Cash last year.
The company now has two projects in development with script funding already awarded by MOIN.
Berlin-based Kurdish filmmaker Miraz Bezar, whose 2009 film Min Dit [aka Before My Eyes] was co-produced by Akin with his previous company Corazon International, is planning to adapt Katerina Poladjan's 2019 novel Hier sind die Löwen. (As an actress, Poladjan had had roles in Akin's The Cut and Tschick)
And Akin has always rated the German-Mongolian filmmaker Uisenma Borchu very highly after her graduation film Don't Look At Me That Way and 2020 Berlinale Panorama title Black Milk. He approached her to direct an adaptation of Verena Güntner's novel Power about a relationship between an elderly woman and a 12-year-old girl.