Modern take on classic film in the pipeline from AMBI Group.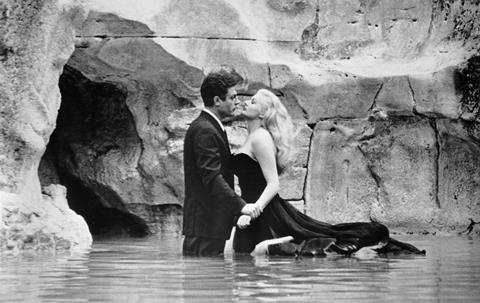 A new feature is in the works that has been dubbed "an homage" to La Dolce Vita, Federico Fellini's classic film starring Marcello Mastroianni as a philandering paparazzo journalist in Rome.
Los Angeles-based AMBI Group has closed an option agreement with the Fellini family and estate make the new feature, which they will finance and produce with Italian producer Daniele Di Lorenzo.
Di Lorenzo will produce the film through his LDM Productions banner. AMBI, in addition to financing and producing through AMBI Pictures, will oversee global distribution of the film through its international sales division, AMBI Distribution.
Francesca Fellini, niece of Federico Fellini, said: "We've been approached countless times and asked to consider everything from remakes and re-imaginings to prequels and sequels. We knew it would take very special producers and compelling circumstances to motivate the family to allow rights to be optioned."
She added that Di Lorenzo alongside AMBI Group principals Andrea Iervolino and Monika Bacardi had "a beautiful vision of a modern film".
"Considering their Italian heritage and deep appreciation and understanding of my uncle's works, there couldn't be a better alignment for this project," she said.
Di Lorenza said he had been "fascinated by the myth surrounding La Dolce Vita" while growing up in Rome and would present "an extended mythology".
Iervolino explained: "All of the elements that made La Dolce Vita an instant classic will be ingredients in this new film. Our vision is of a contemporary story every bit as commercial, iconic and award-worthy as the original.
"These are big aspirations of course, but we have to be bold if we want to match the imprint of the original film and have the utmost confidence this vision will play out beautifully."
The classic 1960 Italian comedy-drama was written and directed by Fellini. The film follows restless reporter Marcello Rubini (Mastroianni) for a week in Rome. While Marcello contends with the overdose taken by his girlfriend, Emma (Yvonne Furneaux), he also pursues heiress Maddalena (Anouk Aimée) and movie star Sylvia (Anita Ekberg).
It won the Palme d'Or at the 1960 Cannes Film Festival and the Oscar for Best Costume Design.
AMBI's growing film slate includes James Franco's In Dubious Battle, CGI family animated film Arctic Justice: Thunder Squad and sci-fi thriller Rupture starring Noomi Rapace and produced alongside American Sniper producer Andrew Lazar.
Other titles include psychological thriller Lavender, romantic comedy All Roads Lead to Rome starring Sarah Jessica Parker and Barry Levinson drama The Humbling, starring Al Pacino.