Mexican director Fernanda Valadez's drama Identifying Features has won the top prize for best feature at the 2020 Zurich Film Festival, which awarded all its top Golden Eye honours to female directors.
Identifying Features is about a woman who travels across Mexico in search of her son, who is presumed dead after trying to cross the border, and teams with a recently deported young man.
The film premiered at Sundance where it won an audience award and screenplay prize, and more recently screened at San Sebastian, where it picked up the Horizons award. Alpha Violet handles sales.
Valadez was not present at the physical ceremony on Saturday night, which observed Covid-19 safety measures at Zurich's Opera House and where the majority of prizes were awarded to films directed by women.
The Golden Eye for best documentary went to Time, directed by US filmmaker Garrett Bradley. Her film follows one woman's fight for the release of her husband, who is serving a 60-year prison sentence. Amazon acquired the documentary in a reported $5m deal at Sundance, where the film won Bradley the directing award.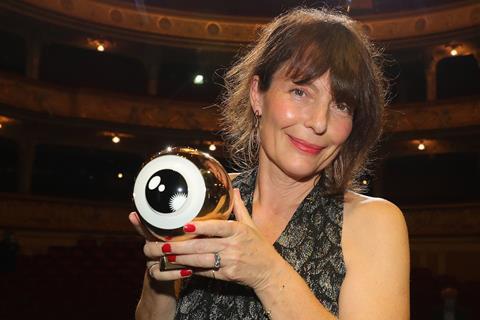 The top prize in ZFF's Focus sidebar went to Why Not You by Italy's Evi Romen. The film centres on a young man who visits a gay bar in Rome with his childhood friend, only to see him fall victim to a violent attack. It marks the directorial debut of Romen, who has spent more than 25 years as an editor on several Wolfgang Murnberger features and Michael Sturminger's Casanova Variations.
The Golden Eye for best series went to Cry Wolf, by Danish director Maja Jul Larsen. The drama series follows the aftermath of a school essay, written by a 14-year-old girl, in which she accuses her stepfather of sexual assault.
The audience award went to Sami, Joe and I, which marks the feature debut of writer-director Karin Heberlein and follows three girls who confront issues at the end of their time at school together. It also won the Churches of Zurich award.
In addition, Dutch feature The Club Of Ugly Children, by Jonathan Elbers, won the children's jury prize.
The jury was headed by Mexican director Michel Franco, whose most recent film New Order premiered in competition at Venice last month and also screened at ZFF.
Star turnout at physical festival
ZFF's 16th edition ran as a physical event from September 24 to October 4 and comprised 165 films, with more than half of the competition titles directed by women.
The festival reported attendance of 68,000 visitors and around 100 sold-out screenings, with guests including Johnny Depp, who presented Julien Temple documentary Crock of Gold: A Few Rounds With Shane MacGowan.
Juliette Binoche received the Golden Icon award during the festival while French director and actress Maïwenn received the A Tribute to… Award. German actor Til Schweiger received a Golden Eye award for his career while Zurich-born director Rolf Lyssy was feted with the career achievement award.
"We wanted to send a signal of optimism and new beginnings, and we succeeded," said ZFF director Christian Jungen. "It has been shown that people are keen on cinema again. We have proven that it is possible to organise a cultural event even under the current conditions. Now we hope that other organisers will dare to resume operations and that people will go to the cinema more often."
The 2021 festival is set to take place from September 23 to October 3.
ZFF 2020 winners
Feature film: Identifying Features
Dir: Fernanda Valadez
Documentary: Time
Dir: Garrett Bradley
Focus: Why Not You
Dir: Evi Romen
Series: Cry Wolf
Dir: Maja Jul Larsen
Audience Award: Sami, Joe and I
Dir: Karin Heberlein
Gamechanger Award: Ascot Elite
Prize of the Children's Jury: The Club Of Ugly Children
Dir: Jonathan Elbers
ZFF Audience Award for Children: Little Crumb
Dir: Diede In't Veld
Critics' Prize: 80,000 Schnitzel
Dir: Hannah Schweier
Science Film Award: I Am Greta
Dir: Nathan Grossman
Film Prize of the Zurich Churches
Dir: Sami, Joe and I, dir. Karin Heberlein
Treatment Award: Flesh And Blood
Dir: Ares Ceylan