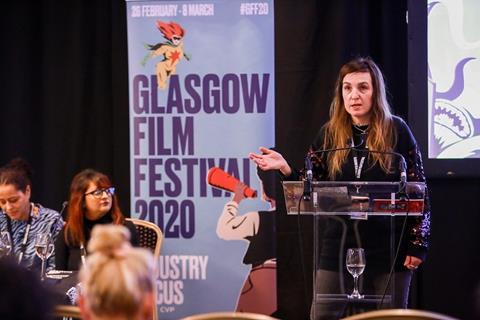 Reporting harassment and fostering an inclusive workforce were some of the topics covered at a Glasgow Film Festival session on Monday with the cohort of Birds Eye View's Future Leaders in Distribution. This ScreenSkills-backed female leadership programme aims to address inequality at the top of the UK distribution sector and the resulting trickle-down impact.
Birds Eye View's Mia Bays led the discussion, which featured nine of this year's 13 leadership programme participants. Bays explained the thinking behind Birds Eye View's Reclaim the Frame Initiative. "Cinema is all about perspective. It does matter who is looking through the lens, whose eyes we are looking through… Film is a powerful medium that we all should be responsible for and with."
She added: "Feminism is about economics as well, it's good for everyone when films make money. Independent cinema is struggling as well. Let's bring the equality conversation to the audience."
In the wide-ranging discussion, the experts from across many areas of distribution looked ay industry-wide trends and offered advice.
Delphine Lievens, box office analyst at Gower Street Analytics, called for more thinking about intersectionality within the workforce. "This promises a varied output of films. The majority of the top decision-makers making the calls about the films to release and how big those campaigns will be, will be predominantly white men. If you diversify [staff] to represent more of the society, you can attract that wider audience."
She noted high-end TV and streamers had bigger percentages of female directors than the film world.
Nicola Browning, Studiocanal's senior product manager, spoke about how the industry had changed since the Time's Up and MeToo campaigns have moved into the mainstream. "The level of accountability has changed, people have started to listen and things are starting to happen. The behaviour I witnessed at the start of my career wouldn't be acceptable now, even if we still have a long way to go."
Claire Roman, Curzon's legal and business affairs manager, pointed to the recent startling statistics from the Film and TV Charity about mental health issues in the film and TV industries. She reassured the audience there are resources for people who are struggling, even if they don't feel like they can talk to their direct manager.
"Time's Up is doing good work, the BFI can be there for you, or Bafta," she said.
Moving past the Weinstein case, Roman added: "Ally-ship is how we can all work together, we can find a way together to raise awareness [when there is a harassment issue]. It may happen to us, but more likely you can be the person hearing about the story, and what can you do."
Rebecca Ashdown, campaign director at Together Films, spoke about the need to work with the right partners early in a film's lifecycle, particularly with the kinds of social impact documentaries on which Together works. "You don't have to wait until you have a finished film to get started with NGOs, charities or influencers. You can invite people to set."
Nadia Lachman, Entertainment One's senior director of legal and business affairs, noted the lack of women recognised at awards season is an issue that stretches far back in to the pipeline. She said it is something she is now seeing more accountability for in the financing and packaging stages of a film.
"I'm part of people being paid equally," Lachman explained. " It's happening and we can all take some responsibility instead of passing that buck."
Violette Martin, BFI distribution sales manager, advised on being smart with festival and/or platform deals. She said: "Ask yourself, 'Is the festival opportunity the right one at the right time?' If you have an opportunity don't just jump on it right away, seek advice. It's the same with Netflix, if Netflix wants to buy your worldwide rights, think about what you want for your film. Netflix might be the right opportunity for you but just seek advice."
Charlotte Mardon-Heath, Entertainment One's theatrical marketing consultant, explained that knowing your audience is more important than ever. "It's so important to have a comprehensive or dynamic view of who your audience is, from development to production to when you are pitching to festivals or sales agents or distributors. Not just 'it's a film for women, or men, or kids.'" Assets are also important: "Invest in the best possible photographer on set," she said.
Ngozi Okali, distribution consultant, pointed out filmmakers especially need to pay attention to delivery schedules, including specs and formats. She also responded to a question about the lack of screenings for specific groups. "The audio description is there, it's about getting that out there [headset costs and staff training at cinemas are two hurdles she mentioned]," she said in relation to blind audiences. As for D/deaf audiences, she hoped the "technology will catch up and we'll have invisible subtitles on screen."
Finally, Droo Padhiar, Dogwoof's UK and global marketing manager, cited the company's forthcoming release of Daniel Gordon's documentary The Australian Dream, which looks at race and sports. It's not just about releasing diverse content she said, it's having diverse teams working on those releases. "You'll be able to identify an audience sometimes better than a white man would. You can put yourself in the shoes of a consumer you want to reach."