Leading figures from film festivals in Cannes, London, Edinburgh and Hong Kong revealed their top tips for standing out from the rest when gaining selection to festivals.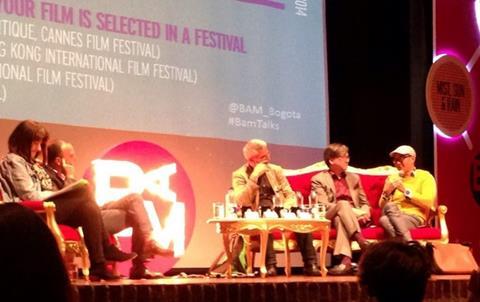 The panel discussion at the Bogota Audiovisual Market (BAM) in Colombia included Charles Tesson, artistic director of Critics' Week at the Cannes Film Festival; Maria Delgado, programmer and advisor on Spanish and Spanish-American cinema for the BFI London Film Festival; Chris Fujiwara, artistic director of the Edinburgh International Film Festival; and Raymond Phathanavirangoon, programme consultant for the Hong Kong International Film Festival.
Here are the tips shared by the panel…
Charles Tesson, Cannes Critics' Week
Do not show a rough cut of your film because the first impression is the strongest.
Do not show us the film too late. The idea that we will forget previous films and only remember the ones we received last is wrong.
If you're at Cannes, it's useful to get a press agent for France. At Cannes, the film lives in the press for 24 hours. On the day of the screening, there are a lot of interviews, radio and TV and after that they move on to other films so make sure to organise everything for those 24 hours.
Maria Delgado, London Film Festival
Make the most of the opportunities made available to you, such as our industry breakfasts and afternoon teas that bring filmmakers, critics and sales agents together.
Be realistic in your expectations. An invitation to the London Film Festival doesn't necessarily lead to distribution in the UK.
Talk to the audiences after the screenings and make the most of getting feedback from non-industry professionals.
Raymond Phathanavirangoon, Hong Kong International Film Festival
Do not send works in progress to festivals because your film will only be seen once – unless they are good friends with you.
When you're shooting your film, always have a stills photographer on your set. The first thing an audience for a festival sees is that picture of your film. If the picture is ugly, they will flip the page.
When you have a world premiere, you really should have a sales agent on board. If you premiere at a smaller festival and then try to find a sales agent, it's too late. Your film is already considered old. It's important to get everyone on board before you go to festivals.
It is important to secure an Asian premiere at a big festival like Hong Kong or Busan because that can serve as a launchpad to smaller, regional festivals such as Taipai and Puchon. And Asia is becoming more important in terms of market share.
Chris Fujiwara, Edinburgh International Film Festival
If your film has been selected by a festival, find out who selected it and start a relationship with that person.
Get the industry list and invite people to your screening, but personalise those invites.
If you're at a festival, you should see films. It's hard at festivals like Cannes where a lot of business is going on. But at a festival like Edinburgh, take a look at the programme, meet the filmmakers and form collaborations. It's important for filmmakers not to isolate themselves within their own film.