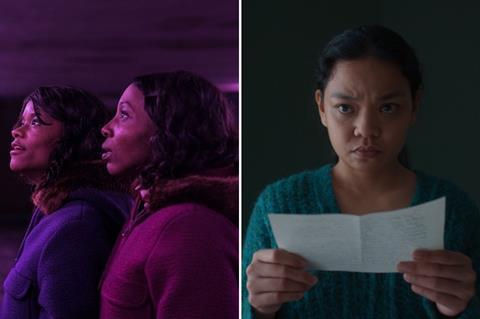 Distributors have steered clear of major new releases this weekend ahead of the UK and Ireland December 16 opening of Avatar: The Way Of Water, however there are some notable arthouse titles debuting at the box office.
Cannes premiere The Silent Twins is this weekend's widest new release, playing in 160 sites for Universal, following Tamara Lawrance and Letitia Wright's recent British Independent Film Award (Bifa) win for best joint lead performance. The Lure's Agnieszka Smoczynska directs this Poland-UK co-production, which is Smoczynska's English-language debut, and is adapted from Marjorie Wallace's novel of the same name that's based on a remarkable true story. June and Jennifer Gibbons, identical twins who were the only Black family living in their community in Wales in the 1970s, handle a hostile community by only communicating with each other, and retreating into a fantasy world.
Both Lawrance and Wright have previously been named as Screen Stars of Tomorrow. Costume designer Cobbie Yates, who also worked on the title, was named a Star this year.
Irish filmmaker Lorcan Finnegan's psychological thriller and Sitges premiere Nocebo is billed as the first Irish-Filipino co-production. An affluent home become the setting for an intense showdown between a successful woman and the forces that haunt her. Eva Green and Mark Strong star. Veritgo Films has it in 138 cinemas.
Sony has US filmmaker Max Walker-Silverman's debut A Love Song is out at 110 sites. It focuses on a widow, in her 60s, who lives alone in a caravan on the edge of a Colorado lake, in a back to basics existence, who is reunited with a childhood sweetheart from many decades ago. The distributor is also putting out Japanese manga comedy The Quintessential Quintuplets in 108 locations.
In event cinema, Trafalgar Releasing will broadcast live from New York's Metropolitan Opera The Hours on Saturday (December 10) night at 133 venues, with further delayed screenings to follow. It's composed by Kevin Puts and adapted from Michael Cunningham's 1998 novel of the same name, which was previously adapted into a 2002 Oscar-winning film starring Nicole Kidman, Meryl Streep and Julianne Moore. The Royal Opera House will also be releasing London's Royal Opera House ballet The Nutcracker in cinemas this weekend.
Harry Koster's 1947 title The Bishop's Wife is re-released this weekend by Park Circus at 112 sites, starring Cary Grant, Loretta Young and David Niven.
Toronto premiere Charlotte is out at 39 locations for Parkland Entertainment. The animation is an account of German-Jewish artist Charlotte Salomonn's life in the south of France between 1941 and 1943, with a voice cast featuring Keira Knightley, Marion Cotillard and Brenda Blethyn.
Hindi-language crime drama Vadh sees a retired schoolteacher forced to take matters into his own hands when a loan shark gets on his case. Jaspal Singh Sandhu and Rajeev Barnwal direct, with Yash Raj Films putting it out at 18 sites.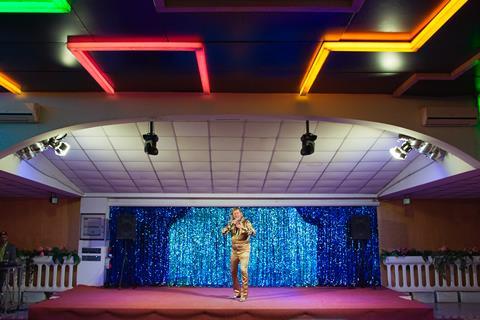 Berlinale title Rimini is out in 13 venues this weekend, with 18 to be added in the following week. Austrian auteur Ulrich Seidl's feature tells the story of a faded pop star, squeezing out as much money and adoration as he can from fans in a faded Italian coastal town. His world starts to implode after his adult daughter turns up, looking for money.
Munro has documentary Anonymous Club from Danny Cohen, that paints an intimate portrait of reclusive Australian rocker Courtney Barnett, at four sites.
New Wave Films has a very limited release of Berlin competition title Mr Bachmann And His Class, directed by Maria Speth. with three sites. The documentary follows a schoolteacher's unconventional teaching methods, as they clash with the social and cultural realities of the provincial German industrial town in which they live.
Also out this weekend is The Felling, directed by Eve Wood and released by Wood's own Sheffield Vision. The documentary plays at London's Curzon Soho today (December 9), with four more venues following in December, and further screenings running throughout January. The feature captures citizens of Sheffield as they rise up to stop the destruction of the city's trees in the face of a powerful city council, the police and a giant multinational corporation.
Key holdovers include Roald Dahl's Matilda The Musical (Sony), Black Panther: Wakanda Forever (Disney) and Violent Night (Universal).