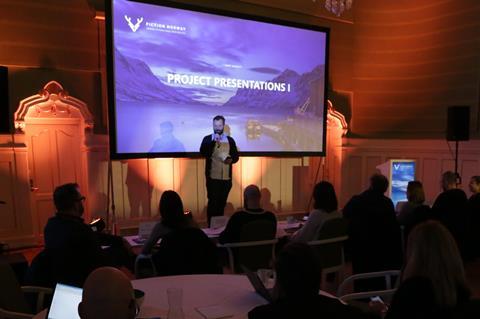 The Fiction Norway project market, held in Tromso on January 14-15, is planning a special focus for its 2024 edition on Indigenous and Arctic voices.
Producers and directors from the Arctic and sub-Arctic regions are invited to submit their feature film projects in advanced development.
Fiction Norway's international guests for past editions include executives from Netflix, XYZ Films, FilmNation, NEON, Sony Pictures, IFC Films, Hulu, Lionsgate, Participant, HBO Nordic, Samuel Goldwyn, CAA Media Finance, Globalgate, Wild Bunch International, Endeavor Content and AMC Networks.
The 2024 Indigenous focus is backed by the International Sámi Film Institute (ISFI), who will also take part in the project selection.
In the past the selection was focused just on Norway, not including other Arctic regions. Eligibility criteria is that projects are related to Arctic issues and/or with an Arctic setting; or that they are made by Indigenous filmmakers from the Northern Hemisphere.
The invitation-only Fiction Norway is organised by the Tromsø International Film Festival, in collaboration with the Norwegian Film Institute, Producers' Guild of Norway, Filmfond Nord and now ISFI.
Fiction Norway is comprised of short pitches by each team as well as one-on-one meetings, plus networking sessions.
The Tromso International Film Festival has supported Arctic and Indigenous voices across its programmes, including last year's presentation of upcoming titles form the International Sami Film Institute, and a number of Sami films in its programme, including 2023 opening-night film Ole Giaver's Let The River Flow.
Henning Rosenlund, deputy programme director at Tromso, told Screen: "Our selection of film projects for Fiction Norway now mirrors our festival programming philosophy, which has always celebrated the artistry of Arctic and Indigenous films. The Sami film community is buzzing right now. It used to be years between each major Sámi production, but at our last festival we had works-in-progress with eight new really exciting film and drama projects. Two of these went on to premiere in Toronto recently, and more is to come. The Sámi filmmaking community has rightfully been labelled 'the next hotbed' in global Indigenous cinema, and we are very happy to provide a platform for their stories in partnership with ISFI."
He continues, "Changes in landscapes and eco-systems by climate change are now happening with increased speed in the Arctic, and we think stories from the Arctic region are more important than ever. We're dedicated to bringing these stories to industry leaders and key buyers, and we know the global industry is interested in hearing about these projects at an earlier stage."