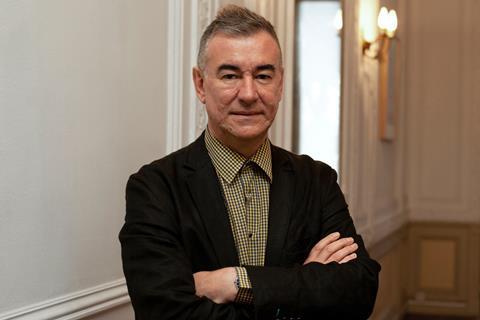 There is a film festival going ahead in the south of France this summer - and it's not Cannes.
FIDMarseille is breaking new ground this year simply by taking place. The festival opens tonight, Wednesday July 22, and is running until Sunday July 26. It is the first proper physical film event of its kind, certainly in Europe, since the coronavirus pandemic began.
As Jean-Pierre Rehm, executive officer of the festival, explains staging it has been a huge challenge. "We thought first of cancelling," Rehm recalls. "Then we thought of going online. Then, when the [French] government announced that theatres would re-open on June 22nd, we thought it would be just meaningless not to happen for real."
FIDMarseille is this year presenting fewer films than normal – just under 100. These include mid-length films and shorts, documentaries and narrative features. Rehm says ticket sales have been brisk for a line-up that mixes new films, plenty of first films and festival favourites.
Although FIDMarseille is part of Doc Alliance, the partnership between seven leading documentary festivals, the event programmes dramatic features as well as documentaries. As Rehm recently commented, "I don't believe in a difference between documentary and fiction."
There are three main competition sections: the international competition, the French competition and the first film competition. They all screen a mixture of shorts, mid-length films and features – and show both documentaries and dramatic fare.
Scroll down for full international competition line up
This year's event is launching an intriguing new competition, Flash, which will showcase 22 shorter- length films, from 12 minutes to 45 minutes, shot on all sorts of formats, from cell phones to 35mm. The films can also screen in other strands of the festival too.
"We have seen many, many gems [in the] short films," Rehm explains. The festival already programmes shorts but the idea here is to give them their own dedicated section.
"We thought it is so sad not to be able to invite these films, to put a light on them - to propose them to an audience who we are sure will enjoy them."
In addition to a best film award, there is a new award, the Alice Guy prize, which will go to a female director of a Flash film.
Rehm expresses pride in the gender parity of this year's programme: 26 male and 26 female directors in the competitive sections. "We didn't push it at all. We've always paid attention, for a long time, that women are present in the festival but this year, it was a gift," he says.
Homages
FIDMarseille is paying tribute to the formidable but sometimes under-acknowledged German director Angela Schanelec, whose most recent feature I Was At Home, But which won a Silver Bear at the Berlinale in 2019. Schanelec has a long association with the festival. She was once a juror and her filmography, appropriately enough, includes the 2004 feature, Marseille.
"She has a very special, very stubborn, very entangled and complex gaze at the world," says Rehm. "What struck me was the simplicity of her films and at the same time something very daring, something nourished by Chekhov, by Shakespeare and by part of the French cinema, like Bresson."
Eight of Schanelec's films are screening. She will be in attendance and will take part in a festival masterclass.
There will also be a five-film homage to the late Michel Piccoli, the legendary French actor who died earlier this summer. This will include Jean Luc Godard's Le Mepris, in which the stars opposite Brigitte Bardot, ("maybe his most beautiful film"), Claude Faraldo's wild satire Themroc and one of his final films, Nanni Moretti's Habemus Papem.
Four of the Piccoli films are screening tonight in different venues to mark the opening night. Audiences can therefore choose their own opening film.
Anxiety and joy
Ever since FIDMarseille confirmed it would be happening, delegates and filmmakers from France and across Europe have agreed to come. But there will be far fewer international guests than normal due to travel restrictions regarding the pandemic.
"Some people from US, from Canada, from South America and from Asia, of course, most of them won't be able to attend," says Rehm.
Prominent figures who will be in town include actor Lech Kowalski to present his new 58-minute film C'est Paris Aussi in the French Competition, and actor Zita Hanrot who leads that competition's jury.
Certain jurors, for example Japanese director Nobuhiro Suwa, who heads the International Competition jury, and producer Violeta Bava, who is on the First Film jury and is in Argentina, will be doing their work remotely. "The calendar with them was already set before we decided to go live," Rehm explains.
The festival will also have fewer venues than normal and these will be restricted to around 66% of capacity. Activities will be concentrated in one area of the city. "You will have a maximum of seven minutes from one to the other," says Rehm.
It was a race against time to get the festival ready and Rehm speaks of the mix of "anxiety and joy" the organisers felt as they made their preparations. It may have been a last-minute decision but going ahead with a physical festival was "the only meaningful way to do it."
The FID Lab took place online from July 9-10.
FIDMarseille International Competition 2020
Everything That Is Forgotten In An Instant (Arg) 61 mins, world premiere
Dir: Richard Shpuntoff
Explaining The Law to Kwame ( Isr) 23 mins, world premiere
Dir: Roee Rosen
EYES / EYES / EYES / EYES (Sp) 37 minutes, world premiere
Dir: Albert García-Alzórriz
Goodbye Mister Wong (Laos-Fr) 106 mins, world premiere
Dir: Kiyé Simon Luang
1-3 (US-Swe) 42 minutes, world premiere
Dir: Ellie Ga Gyres
Homelands (Serb) 63 mins, world premiere
Dir: Jelena Maksimović:
N.P (Belgium) 60 mins, world premiere
Dir: Lisa Spilliaert
Night Shot (Chile) 80 mins, international premiere
Dir: Carolina Moscoso
Northern Range (Fr) 70 mins, world premiere
Dir: Olivier Derousseau
Pajeú (Braz) 74 minutes, world premiere
Dir: Pedro Diogenes
Shady River (Arg) 81 mins, world premiere
Dir: Tatiana Mazú González
The Cypress Dance (Port) 37 mins, world premiere
Dirs: Mariana Caló, Francisco Queimadela
The Howls (Mex) 70 mins, international premiere
Dir: Julio Hernández Cordón
The Notes of Anna Azzori / A Mirror that Travels Through Time (Aust-Ger-Fr) 72 minutes, international premiere
Dir: Constanze Ruhm
Toda La Luz Que Podemos Ver (Mex) 120 mins, international premiere
Dir: Pablo Escoto Luna
Two Stones (Ger-Neth) 61 mins, world premiere
Dir: Wendelien Van Oldenborgh
Zaho Zay (Aust- Fr-Madagascar) 78 mins, world premiere
Dirs; Maéva Ranaïvojaona, Georg Tiller