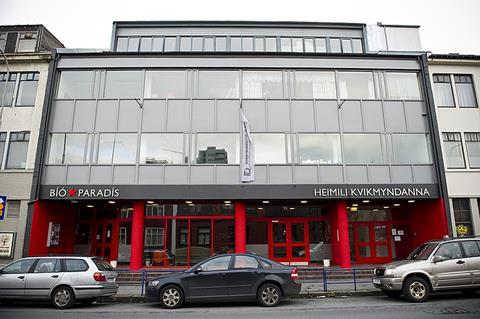 The group behind Iceland's only arthouse cinema is mounting a final effort to keep the venue open as it faces imminent closure due to a proposed rental hike.
Bíó Paradís was opened in 2010 by non-profit group Heimili kvikmyndanna – comprised of the professional societies and filmmaking guilds of Iceland – on Hverfisgata, one of Reykjavik's main streets.
However, Karls Mikla ehf, the company that took ownership of the property in 2014, is looking to increase rent by 150% when the current rental agreement ends on June 30 – more in line with market rates – and is not committed to help Bíó Paradís pay for essential repairs.
Heimili kvikmyndanna has stated it cannot afford this increase along with repairs and Hrönn Sveinsdóttir, general manager of Bíó Paradís, told Screen that the non-profit group "has zero assets and none of its own money".
"Bíó Paradís is supported by city and state and the total support comes to about 17% of its annual operating costs," she explained. "So we have to finance 83% ourselves, which we do by selling tickets, concessions and renting our rooms for screenings and film festivals. We have no financial capacity to go into expensive renovations and pay more than double our rent at the same time – although our business has never been better."
The Bíó Paradís management team has been in talks with local authorities but a solution has yet been found. Box office and concession staff were laid off on January 31.
The plan is to close the cinema on May 1 so deep losses do not accumulate during the slower months of May and June. The remaining employees – including office staff, the projectionist and Sveinsdóttir – will be laid off on April 1.
"We will use May and June to clear out the space and sell the few things that belong to us, like our projectors and sound equipment, to pay for outstanding debt," said Sveinsdóttir.
But she still hopes for a last-minute solution and added: "We are still in negotiations with the city, state and the owners, and we think there is a chance we can continue to exist at this place.
"What has made a big difference is the public outcry and support everyone is experiencing - including those parties - so it is very important to make that support visible and clear. It is great to get letters of support from organizations like EFA (European Film Academy) and CICAE (International Confederation of Art Cinemas)."
CICAE noted in its public letter: "Since Bíó Paradís started operating in 2010, the number of films screened in Icelandic cinemas stemming from sources other than Hollywood has more than quadrupled… I urge you to maintain your only arthouse cinema to preserve a community and for their stories to stay alive."
EFA's letter added that Bíó Paradís has "become an important, vital and irreplaceable film institution in Reykjavik, and which has a reputation for its quality programme far beyond Iceland." EFA annually partners with the venue for its Young Audience Award.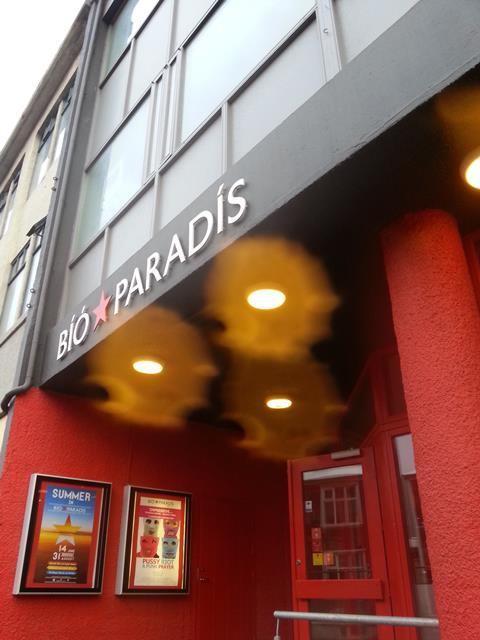 Cultural hub
Built as a cinema in 1977, the site was occupied by commercial theatre Regnboginn until 2010 when multiplexes in the country moved to suburban shopping malls.
The financial crash and poor state of the building meant Heimili kvikmyndanna was able to negotiate a low rental rate. "It was better to rent to us for cheap than have the place sit empty," said Sveinsdóttir. "Also, since it is built as a cinema, it is very hard to change it into anything else. So that was the luck that started Bíó Paradís."
After digitizing the cinema and moving into acquiring films for release, "slowly and steadily, the attendance has grown, our programme has gotten better and things have really started to turn around financially," she added.
The cinema is also home to the annual Stockfilm Film Festival and hosts screenings for the Reykjavik International Film Festival, the International Children's Film Festival in Iceland and other film seasons devoted to German, Polish, Japanese and French films as well as educational screenings for local school children.
The venue also distributes films that would otherwise not be shown in Iceland, such as recent Oscar-winner Parasite. A cult movie night, titled Svartir Sunnudagar (Black Sundays), also commissions custom movie posters by Icelandic visual artists.
The group also want to avoid moving to the suburbs as the cinema space has become known as a cultural hangout in downtown Reykjavik, with its café and bar.
Sveinsdóttir added: "We are a public forum with a wide range of communities that come to the cinema, often just to hang out and see whether they want to see films or just meet other people. We host countless events for different groups of people and festivals. This is all based around being in the centre. We don't see it functioning as the same cultural venue from a room in the suburbs."
Hilmar Sigurðsson, CEO of production company SagaFilm and chairman of the board, told Screen: "We are trying all means and measures to ensure that operations continue in its current location…. We have to live with the fact that our lease is running its course in few months' time.
"We are talking to both city and government officials and discussing various solutions. We have to remain optimistic that we can find a long-term solution that means Bíó Paradís can continue to run successfully in downtown Reykjavik."
Karls Mikla ehf did not respond to Screen's request for comment.
A petition that members of the international film community are being urged to sign has close to 1,700 signatures and can be found here: https://www.gopetition.com/petitions/save-bi%C3%B3-paradis-ratujmy-kino-bi%C3%B3-paradis.html