FILM BAZAAR: Experts also praise Film Bazaar Co-Production Market's new video pitching style.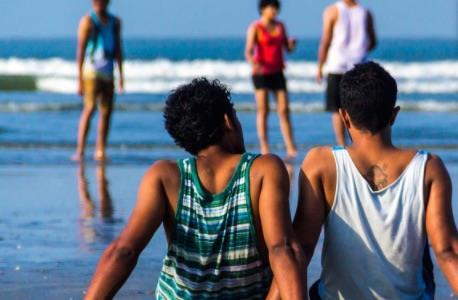 Buyers and festival programmers were buzzing about a number of titles at Film Bazaar 2016, including Kabir Mehta's Buddhagram, an inventive documentary with risqué scenes from the life of a flamboyant cricketer.
Another hot title, also in Film Bazaar Recommends, is Atanu Mukherjee's Unknown Faces (Rukh), a Hindi-language drama about an 18-year-old boy dealing with a family tragedy.
Three documentaries making waves with international visitors are Vrinda Samartha's English-language Limitless about female marathon runners; Rupak Das' A Dream Document about young Mumbaikars who dream of stardom; and serial killer story The Karma Killings by Ram Devineni and Tushar Parekh.
Festival programmers were also keen on My Son Is Gay [pictured], a Tamil fiction feature by Lokesh R; and Marathi-language socially relevant horror film Hide N Seek (Lapachhapi) by Vishal Furia.
The industry was also buzzing about two Malayalam films: Sanal Kumar Sasidharan's fantasy Sexy Durga (which is attracting sales companies) and father-son story The Narrow Path (Ottayaal Paatha) by Santosh and Satish Babusenan.
Another father-son drama attracting attention is English-language The Color of Loss or Blue by Aakash Bhatia.
In the Co-Production Market, the innovative decision to offer recorded video pitches was hugely welcomed by attendees and participants. Dutch producer Joost De Vries, who is working with Aboozar Amini's The Cineaste, said, "When we sat down with people they were already aware of what we were discussing. It saved a lot of time and energy, it was so much more effective than spending time pitching here."
It helped directors focus their thoughts before arriving in Goa, and he said, "You have the added value of having moving image in your pitch, so if people are asking about tone and look, some of that can be seen in the video pitch… I think other festivals could start doing it