Norman hosted the BBC's Film… show for 26 years.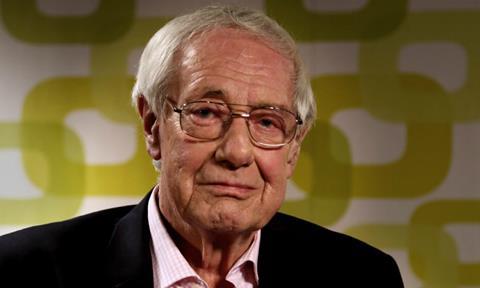 Film critic and TV presenter Barry Norman has died aged 83, according to his family.
He died in his sleep on Friday night (June 30). His daughters Samantha and Emma said in a statement: "He had a great life, a wonderful marriage, and an enviable career."
"He leaves behind a family who adore him and a great roster of friends who love him too. We will miss him more than we can say."
Norman presented the BBC's Film… show from 1972 to 1998. He was the programme's longest running host.
Son of director Leslie Norman, Barry Norman started out as a journalist, working for The Daily Mail, The Observer and The Guardian.
He became the host of the BBC's Film… show in 1972, presenting it for 26 years (he briefly left to present Omnibus in 1982 but returned the following year).
Norman quit the programme for good in 1998, defecting to Sky. His departure was reported to be acrimonious, with Norman telling The Guardian: "Because I left at a time that was not convenient for [the BBC] I became a non-person. Even on the last day, nobody called up to say, 'Good luck in your future life,' or even 'drop dead'."
Tributes
Jonathan Ross, Norman's successor on Film…, paid tribute on Twitter, saying: "Very sad to hear that Barry Norman has left us. A great critic and a lovely, lovely man."
Fellow film critic Mark Kermode said: "Watching Barry Norman review films was a pleasure, an education, and an inspiration. Wit, knowledge & wry enthusiasm. He was the Master."
TV presenter Paul Ross said: "Very sad to hear about the death of Barry Norman. A great journalist, much-loved father and uncle and true enthusiast for the cinema."
Comedian Rory Bremner said: "Sad to hear Barry Norman's died.Another favourite of mine (and why not?). Wit, knowledge, love of his subject. Good journalist, lovely man."
Stephen Fry added: "Sad to hear of Barry Norman's departure. A film critic and a provider of fine pickled onions. That's a good life."
This is a reference to Norman's own brand of pickled onions, based on his mother's recipe, which went on sale in 2007.