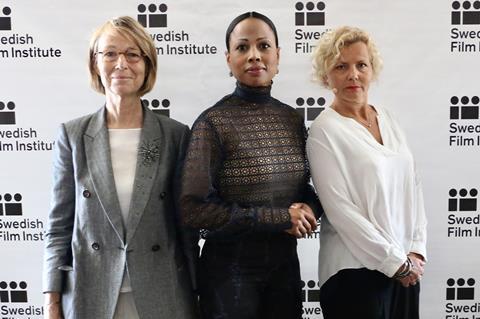 The next steps for gender equality in film will have to include challenging traditional power structures and investing more in female voices, the experts said at the Take Two: Next moves for #MeToo seminar organized by the Swedish Film Institute in Cannes on Sunday.
Addressing the money part of the equation, Anna Serner, CEO of the Swedish Film Institute, made the threat that if the SFI's market funding, for its most commercial projects, doesn't go to any female directors/producers in 2019, then in 2020 all that money will be allocated for women only.
Eva Röse, Swedish actor and member of #tystnadtagning, said, "If we want to take the next step, we need to focus on the structures not the individuals. Good intentions are not enough. If we don't don't stand up and speak up against inequality we are part of the problem. We have to talk about power and money."
She added that there has to be zero tolerance for gender-based oppression. That includes even the world's biggest names in film. "Even a creative genius will have to work in an environment that's safe for others. You don't have to be an asshole to make great art," she said to cheers from the standing-room only audience at the Salon des Ambassadeurs.
Alice Bah Kuhnke, Sweden's minister for culture and democracy, added, "It's so important that leaders all over the society need to understand that this is a question about leadership in so many ways. We have all read the manifestos and listened to the testimonies so as leaders we need to take action. If we are not ready to take action then we should leave our positions. Time's up."
She said the struggle for gender equality won't be easy but it simply has to happen now. "This will be very very hard because it's about power, it's about money. People with power want to keep power." She said Sweden has an action plan and she is "looking at legislation to make it more effective." She also constantly has it on her "agenda… I don't meet any other leader from any other country without talking about this, maybe I can get some good inspiration to do even better."
Inclusion riders
Stacy L Smith, the founder of the Annenberg Inclusion Initiative at the University of the Southern California, and the "inventor of the now-famous "inclusion rider" in 2016, spoke about three solutions to gender imbalance in film: using the inclusion rider for people in front of and behind the camera (and getting funding bodies to enforce the rider); shifting perceptions about leadership and looking for employees and talents outside of closed networks (and standardizing criteria for evaluating talent not according to gender); and fostering diversity, inclusion and belonging from film schools upward.
Smith said of the latter point, "Film schools need to take action, match emerging directors with philanthropists, VCs and financiers and build careers for women and people of colour early in their experiences. Film schools should embrace their talented alumni and pair them with students."
TIFF Artistic Director Cameron Bailey noted that of the 21 programmers at Toronto, the mix is currently 12 women and 9 men. "When we talk what is a high quality film at a certain level, we have to think about how we define what's important for us," he said. "We're in the middle of figuring it out its an ongoing process for us and Toronto and every festival." Toronto certainly has better statistics than Cannes in supporting female directors, and last year it pledged $3 million in its Share Her Journey initiative to support female filmmakers.
Serner, one of the globe's top ambassadors for gender equality in film, explained how the SFI had reached gender parity in its funding (in 2014) by concentrating on new ways of evaluating quality. "We started to demand from all the people proposing films [for funding] that they had to argue why is it quality and we defined quality in three ways – how urgent or relevant the story is; originality, we don't want to see the old stories over and over again; the third part is can they argue for the production value, is the craft is good enough?"
She continued, "So we talked about he actual project not the gender or the persons. Not 'he has done this before, we trust him.' That is the way we achieved parity…We do the counting every month but we do the counting after taking the decisions."
In terms of staffing and encouraging female leadership, TIFF's Bailey said that was a no-brainer. "If you are in a position of power where you can hire women, do that! It's that simple. Also look for a diversity of opinions."
Serner added that organisations like funders and festivals also need to have that zero tolerance approach. "For a festival you can send out a message, if we get any knowledge of sexual harassment on set, you will not be eligible for our festival."
"For our production funding [at SFI], the companies need to show they have taken an education in power and structure. If they can't find [that training], we do it for free."
Smith added that other solutions were "education on implicit and explicit bias. Invest, invest, invest. And hire."
Other speakers at the seminar were Melissa Silverstein, founder of Women and Hollywood; Françoise Nyssen, French Minister of Culture; Marlene Schiappa, French Secretary of state in charge of equality; Bosnian filmmaker Aida Begic and Swedish actress/filmmaker Bahar Pors.
Today's seminar followed Saturday night's powerful public protest of 82 female industry figures in a silent moment on the red carpet at the Palais.