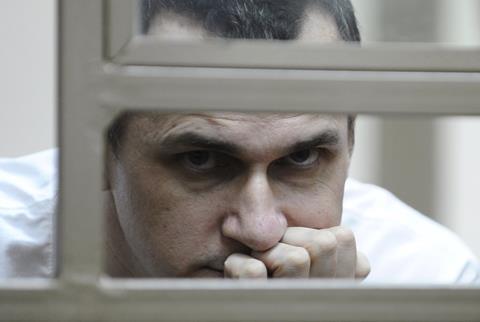 Plans for a film adaptation of jailed Ukrainian filmmaker Oleg Sentsov's play Numbers are to be presented at Odesa International Film Festival's Film Industry Office's (FIO) pitching forum next week.
Kiev-based producer Anna Palenchuk of 435 Films said she has been in regular correspondence with the imprisoned director to ask for instructions and remarks about both a new stage production and a film version of Numbers.
Sentsov is presently on hunger strike in a remote Arctic prison camp for eight weeks in protest at his detention and that of some 70 compatriots in Russia.
"He confirmed he wants to direct the film adaptation of Numbers himself if he is set free," she said. "This is the main project of his life. We know that he is writing plays and screenplays in jail, but he doesn't want to share them and insists on the adaptation of Numbers."
Numbers is set in an fictional world where the main characters are Numbers who obey strict rules and ceremonies. Their lives are controlled by judges and carried out according to the will of their supreme ruler, the so-called Zero.
Palenchuk, whose credits include Eastalgia, and the documentaries Mariupolis and Close Relations, is searching for potential co-production partners from Germany and Poland and has applied for funding from Ukraine's Ministry of Culture for the drama which is budgeted at $570,000.
Numbers on stage
Palenchuk said the film of Numbers will come after the play has been performed on stage this autumn. "Until now, there were several public readings of the play and Oleg asked me to produce the theatre staging as he has known me for a long while and believes in my organisational skills," she explained. "In March this year, I confirmed to him that I will do this for him."
"We already have a production designer for the theatre production and are now in negotiations with certain cast members," Palenchuk continued.
"Three years ago, I published the play Numbers and Oleg's stories," Palenchuk continued. "It was his personal desire to have this play realised in the theatre, and it is very important for him to make this story heard and be seen by lots of people throughout the world."
The stage production of Numbers is planned for this November and an application has made for support from the Ukrainian Culture Fund. "Then we will look for theatre festivals for its presentation and probably have an international tour," she said.
Sentsov mentioned the planned stage production in a letter dated July 3 sent from his prison cell to the actress and public activist Rimma Zyubina: "Thank you all for what you are doing. I hope the production will turn out okay and turn out good."
Campaign to free Sentsov
Palenchuk has known Sentsov since his 2011 debut feature Gamer and his subsequent pitching of his second feature project, Rhino, at Odesa's FIO co-production forum in 2012 where he won the best pitch award sponsored by UDP Development Company.
Last month, she organised public readings in Kiev of extracts from Sentsov's books by Ukrainian celebrities in support of the filmmaker who has been on hunger strike in a Russian prison since May 14.
In addition, Palenchuk has been behind a campaign calling on people to record videos of themselves reading his stories and send them in by email to be collected into one film.
She is now hoping Oleksandr Mimruk's biography of Sentsov - with contributions from family, friends and filmmaker colleagues - will be translated from Ukrainian into English. The book - which also contains documents from the trial against Sentsov - was published by Ukraine's largest publisher Folio last autumn.
Full line-up of Odesa's pitching forum
In addition to Numbers, the Ukrainian projects in development to be pitched in Odesa are:
Dovbush, dir. Oles Sanin, prod. Maxim Asadchiy
Felix Austria, dir. Christina Sivolap, prod. Nadiia Zaionchkovska
Hostel Ledance, dir. Sergiy Rahmanin, prod. Nadia Bezsokyrna
Inconvenient Memory, dir. Ihor Ivanko, prod. Ihor Ivanko, Maria Ponomareva, Volodymyr Tykhyy
Seraphyma, dir. Marysia Nikitiuk, prod. Yuriy Minzyanov, Ihor Savychenko, Myroslav Slaboshpitskyi, Antoine Simkin
The Life Of Anton, dir. Yuliya Mironenko, prod. Ihor Savychenko, Pierpaolo Verg
The Road, dir. Victoria Trofimenko, Delphine Noels, Daria Gai, prod. Victoria Trofimenko, Dheer Mamoya
Zenith, dir. Ihor Stekolenko, prod. Vitaliy Sheremetiev, Natalia Libet, Olga Reka
Indian Burn, dir. Marcus Lenz, prod. Gunter Hanfgarn, Anrea Ufer, Maryna Orekhova, Yuriy Belyi
The Elf's Tower, dir. Polina Kelm, prod. Gennady Kofman, Miroslaw Dembinski, Olha Beskhmelnytsina