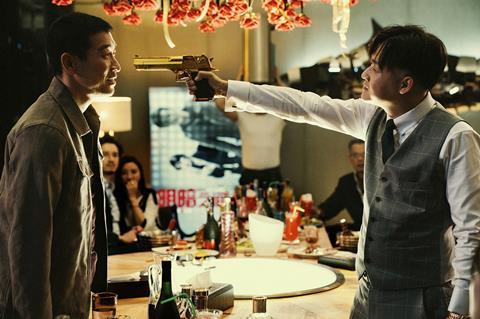 With uncertainty over when and if the mainland China ban on Korean cultural content will be lifted, Korean sales companies have been increasing their business to other countries through markets such as Filmart.
Amidst the rise in popularity of Korean music, TV and films in mainland China, the South Korean government's decision in 2016 to host the THAAD US missile defence system led to retaliatory measures from the Chinese government including a freeze on the import of Korean cultural products and targeting Korean businesses operating in the mainland.
"Sales agents might not be expecting much from China, but when you look at last year's export results, they have expanded markets in Hong Kong, Taiwan and other Southeast Asian territories instead," says Mann Kim, director of the International Relations Office at the Korean Film Council (KOFIC).
According to KOFIC's 2018 report, exports to Hong Kong and Taiwan increased massively, by 392.4% and 115% respectively. Taiwan and Hong Kong were also the leading buyers of Korean films, clocking in at $7.2m and $6.1m.
Sales to Asian territories overall for Korean films grew by 28.8% to $27.9m year-on-year, on the back of business that was carried out at markets including Filmart and TIFFCOM, according to KOFIC.
In addition, despite the freeze on Korean entertainment in China, film exports to the country still went up 24% to $3.9m last year. According to Korean sales agents, optimistic Chinese buyers are still cautiously buying content and storing it away in hopes that the ban is eventually lifted.
"Chinese distributors continue to ask for meetings, show interest and make offers," says Yunjeong Kim, director of international business at leading independent Korean sales company Finecut. "The difference is in the particulars of the contracts, where they will want longer time periods since the ban has not been lifted."
Because China's quota on foreign film theatrical releases is limited to 34 revenue-sharing and 20-30 non-revenue-sharing films per year – which have usually been predominantly from Hollywood – Korean sellers have not felt a marked impact in that sector in terms of loss in sales.
Remake rights
Although there is a freeze on Korean content and co-production, remakes of Korean films don't not seem to have been constrained by the ban. China's Firework Entertainment for example produced The Big Shot, the Chinese-language remake of Ryoo Seung-wan's Korean hit Veteran. Directed by Wu Bai, The Big Shot recently scored over $55m at the local box office according to CJ Entertainment, which is handling sales for the film outside China.
At this market, M-Line Distribution has announced sales of Chinese-language remake rights on mystery thriller Forgotten and romance On Your Wedding Day.
Conglomerates such as CJ and Lotte decline to comment on the record about their China plans and stances, but it is understood that CJ's China business team has not been disbanded and is still preparing for the day co-productions and local-language productions might become possible again.
Korean series
On the broadcasting side, even though Korean content is banned on television, Chinese audiences have been able to access popular TV series such as Sky Castle, the JTBC cable broadcaster's highly rated show about families compulsively trying to get their kids into elite universities.
Lee Young-hoon, senior manager, broadcasting division, global marketing team at the government-funded Korea Creative Content Agency (KOCCA), said: "Korean shows are not broadcast on Chinese television, but viewers are able to access content illegally on the internet.
"At the start of the year, Sky Castle was widely watched and commented upon by Chinese fans on social media. The internet is open and because equipment is good these days, once something is uploaded, it can spread widely. Even if contents rights holders diligently go after and request illegal content to be deleted, many people can still share and watch it.
"Because this has to do with internal policy in China, we can only steadily observe the situation and keep networking with China for our relationships. It seems that they are not averse to crew exchange, improving the capabilities of Chinese production talent and content. And even now, a lot of production companies are looking at selling remake and format rights.
"At the same time, they are expanding into newer markets such as English-speaking Africa and CIS, so the China ban has contributed to their finding more markets."
Lee noted Filmart especially draws a lot of interest for Korean content as the first market of the year taking place in Asia.
"Chinese-speaking territories led by mainland China, Hong Kong and Taiwan are well represented, and there's a lot of participation from Southeast Asia. Japan is the biggest market [for broadcast content] and then Taiwan and Hong Kong. Aside from established legacy media, sellers are looking at new routes into OTT markets especially based out of Southeast Asia with examples such as Malaysia-based Iflix and Hong Kong-based Viu."