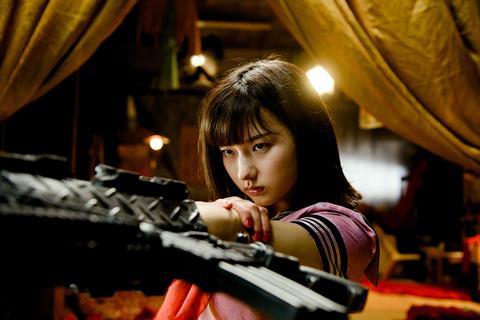 Japan's Nikkatsu is launching sales at Filmart on Rise Of The Machine Girls, a reboot of Noboru Iguchi's cult action feature The Machine Girl.
Directed by Yuki Kobayashi (Death Row Family), the new film stars Himena Tsukimiya, Kanon Hanakage and TAK. It is produced by Yoshinori Chiba, who also produced Iguchi's 2008 original, and Yoshihiro Nishimura (Tokyo Gore Police).
In the new version, Ami and her sister Yoshie are scraping by doing fight shows when Yoshie is captured by female killing machines during a surprise attack on a black market organ-trafficking ring. Going to her sister's rescue, Ami has her left arm severed but attaches a machine gun to the stump and charges into the enemy's lair – only to find Yoshie has been transformed into a human cyborg programmed to kill her.
Nikkatsu's Filmart slate also includes Shadowfall, a film directed by Tetsuo Shinohara (Flower And Sword) about a professional thief who has to clear his name of murder by using his burglary skills. The film stars Masayoshi Yamazaki (One More Time, One More Chance) and Takumi Kitamura (I Want to Eat Your Pancreas).
They are also selling Liar! Uncover the Truth, directed by Jiro Nagae (Friends Games), about a bachelorette who has to figure out which one of ten "perfect guys" for her at a match-making party is not a liar. Based on a hit dating app game, the film stars Akane Hotta (Mr. Hiiragi's Homeroom) and is in post-production.