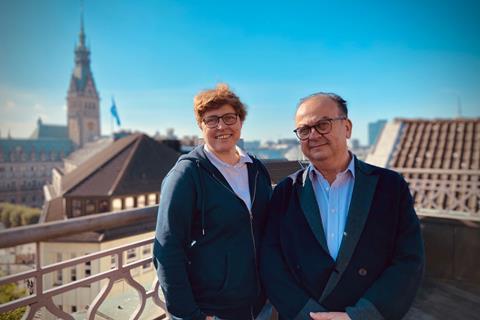 The German film industry is poised to come together at the 29th edition of Filmfest Hamburg which opens today, Thursday September 30, with Sebastian Meise's Un Certain Regard winner Great Freedom. It will close on October 9 with Jacques Audiard's Paris, 13th District.
The accompanying industry programme will be addressing issues as diverse as German cinema's international standing and measures to foster greater inclusion and diversity before rounding off with the second edition of the Explorer Conference which will focus on producing for cinema, streaming and TV.
Festival director Albert Wiederspiel and director of programming Kathrin Kohlstedde reflect on this year's event.
How does this year's Filmfest differ from 2020?
Albert Wiederspiel: We have made a big step towards normality. Last year, we could only use 30% of the seating capacity in the cinemas, but now we are at 50%. We have an amazing number of guests coming to the Filmfest this year compared to 2020 when we only had the Germans and a few foreign filmmakers present. Out of the 110 films in the programme for 2021, we have 87 films being accompanied by their makers with people like Kenneth Branagh, Mathieu Amalric, Edwin, Ildikó Enyedi, and Bruno Dumont here in Hamburg during the Filmfest.
Which hybrid elements are continuing this year?
Wiederspiel: All of the panels and discussions in the industry programme will be streamed live and then be available online because that opens it up for many more viewers than we would have capacity. People don't have to travel from Munich to Hamburg to follow a discussion. We will also have a large number of digital Q&As with filmmakers. We started this last year because people were not travelling, but the Q&As are also good advertisements for the festival that we can then use in our social media for each film.
Has the pandemic had an impact on what and how you have programmed this year?
Kathrin Kohlstedde: Physically, the only festival we attended this year was Cannes, but we attended many others virtually including Tehran, Sofia, Locarno and Venice. With Cannes being in July, we only had a month to put the programme together whereas normally we have from mid-May to August to finalise the films we want.
What guides you when making your programming choices?
Wiederspiel: We like to entertain, but at the same time we also want to show films that are politically relevant and ask the right questions. Leos Carax recently said that he doesn't like Q&As, but instead prefers Q&Qs. That's something that sums up our own position: we're more Q than A!
Last year French cinema was particularly strong in the Filmfest programme. Is this also the case in 2021?
Wiederspiel: French cinema always has a high profile because France is the biggest player in Europe for the kind of cinema we are interested in.
Kohlstedde: There were so many new French films to choose from in Cannes and it was tempting not to invite them all because they have such a wide variety of forms and themes. In the end, we selected around 20 titles including Leos Carax's Annette, Gaspar Noé's Vortex and Leyla Bouzid's A Tale Of Love And Desire.
Wiederspiel: We are also very happy to have three very strong Romanian films [Poppy Field, Miracle and Intregalde] in this year's programme. I like Romanian cinema because they have their very own particular cinematic language and a style that one immediately recognises.
Kohlstedde: Moreover, we have a number of artist portraits including documentaries about the Swiss graffiti sprayer Harald Naegeli and the late Israeli artist Dani Karavan as well as Valerie Lemercier's Aline, a fictional portrait of Celine Dion. English-language cinema is also very strongly represented with this year's 'Contemporary Cinema in Focus' format dedicated to the filmmakers Sean Baker and Andrea Arnold as well as screenings of such films as Wes Anderson's The French Dispatch and Kenneth Branagh's Belfast.
What are you most looking forward to at this year's Filmfest?
Wiederspiel: The opening film Great Freedom: it is a plea for more tolerance in these less tolerant times, a real political statement.
Kohlstedde: For me it's the closing film Paris, 13th District. When I saw it in Cannes, it was a revelation of diversity, where it doesn't matter where you come from, what sex you are or who you love – and all set in the here and now.