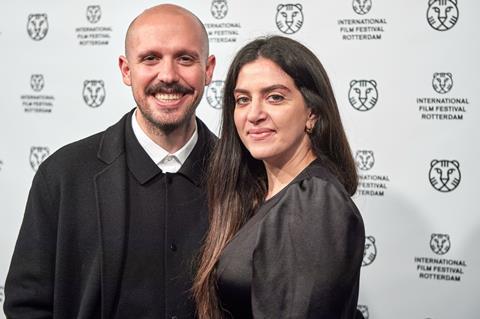 Sebastián Lojo and Remi Itani, the young Guatemalan director and Lebanese producer team behind Los Fantasmas, screening in the Bright Future section of the International Film Festival Rotterdam (IFFR), are developing Lojo's second feature Trout Belly Up together.
It is based on a short story collection by Guatemalan author, Rodrigo Fuentes, and will follow three men who inadvertently destroy each others lives.
Guatemalan- born, London-based Lojo and Lebanese producer Itani met while studying at The London Film School.
Lojo graduated as a cinematographer. Itani, who began her career making documentaries for Al Jazeera, was in the mid-length competition at IDFA last November with her own film, A Long Breath. She also recently completed her first fictional film, the short Drought, shot in Lebanon, about a real estate agent and her connection with the empty spaces around her
The prolific Lebanese filmmaker is also developing a dramatic feature called In A Dream You Saw A Way To Survive And You Were Full Of Joy (working title), which has development funding from the Doha Film Institute. Lojo is set to shoot the film. He was also cinematographer on several of Itani's shorts.
Lojo and Itani filmed Los Fantasmas on location in Guatemala City. The film tells the story of a young man who makes a living in Guatemala City as a thief by proxy, befriending and mugging tourists, seducing men in bars and clubs, leading them to a hotel room where they are robbed.
"I wanted to speak about the impossibility for connection in modern-day Guatemala City and how the city functions as this urban entity that just takes the air away from you," Lojo said.
There is limited public support for Guatemalan filmmakers although local agency Agacine is pushing for a new film law. There are also few independent cinemas in the country.
Lojo and his team are planning to arrange their own screenings of Los Fantasmas.
"We're looking to be able to show the film not online Guatemala City but to try to bring it to as many "departamentos" (regions) as possible without going into a massive amount of debt or relinquishing the quality of the film in terms of image and sound,," Lojo said.
Patra Spanou Film Marketing & Consulting picked up international sales rights to the film on the eve of IFFR. It is also screening at the Berlinale next month as part of the Critics' Week
Meanwhile, Itani has also recently produced a Turkish feature called Break Water, directed by Cem Demirer, a fellow London Film School graduate.