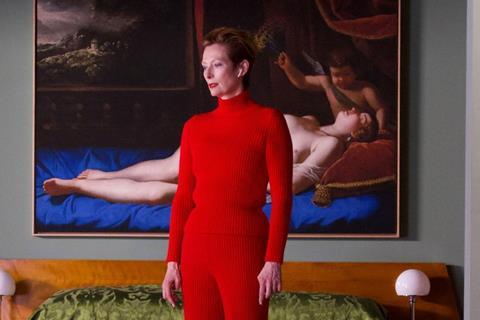 FilmNation has commenced talks with international buyers on Pedro Almodóvar's short film and Venice out of competition selection The Human Voice that is getting a strong early response from critics.
Almodóvar's 30-minute adaptation of Jean Cocteau's one-act play first screened on Thursday (September 3) and marks the Spanish maestro's first English-language work.
Tilda Swinton stars as a woman awaiting a call from the lover who has abandoned her. Swinton received Venice's Golden Lion lifetime achievement award on Wednesday night, a year after Almodóvar collected the award.
The Human Voice shot in July in Spain during the coronavirus lockdown and is produced by Almodóvar's El Deseo.
Speaking to press on Thursday, the filmmaker said his latest film belonged to "a new cycle" of work characterised by "fewer elements".
He wrote the screenplay in Spanish and it was translated into English. "At the beginning, it was difficult working in a different language," he said, "but as soon as the character became [Swinton's], it was brilliant, it was beautiful. I had never heard that musicality before."
The Human Voice is highly significant to Almodóvar and inspired earlier features such like 1988's Oscar-nominated Women On The Verge Of A Nervous Breakdown.
FilmNation, which has a long history of selling Almodóvar's films, had not responded to inquiries at time of writing.
Venice launched as the first physical iteration of a major international festival since the Berlinale and is set to run until September 12.