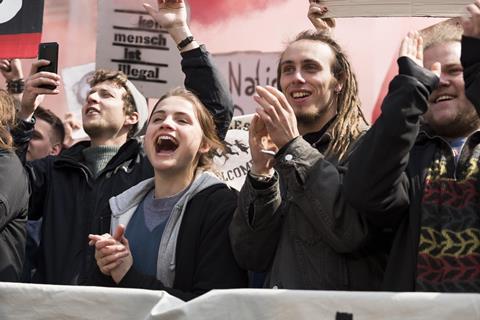 Berlin-based Films Boutique has taken world sales rights to Julia von Heinz's hard-hitting "girl power" political drama And Tomorrow The Entire World, which will premiere in competition in Venice.
This is the first feature from German filmmaker von Heinz to be made through her new Berlin-based production company Seven Elephants, which she co-founded recently with fellow directors David Wnendt (Look Who's Back) and Erik Schmitt (Cleo) and producer Fabian Gasmia (Personal Shopper).
Von Heinz co-wrote the script with John Quester. The Germany/France co-production's cast includes Mala Emde, Noah Saveedra, Tonio Schneider, Luisa-Céline Gaffron and Andreas Lust.
The project was made through Seven Elephants, Kings & Queens Filmproduktion and Haïku Films. Gasmia and von Heinz are the producers.
In the film, as Germany is struck by a series of racially motivated terror attacks, 20-year-old Luisa joins a subdivision of the Antifa [the anti-fascist protest movement] to fight against the resurgent neo-Nazi movement. Secretly in love with a fellow activist, she sets out to impress him with a series of reckless actions that lead her friends to question whether violence can ever be a legitimate answer to fascism and hatred.
Alamode Film is handling distribution in Germany.
Fabian Gasmia said of the project's contemporary relevance: "When we started making this film about young political activists, we would not have imagined in our worst nightmares how topical the issue of exclusion, racism and right-wing extremism would be when we finished it."
Gabor Greiner, COO of Films Boutique, commented: "Julia von Heinz is the new star on the German film horizon. In her new film she is dealing with girl-power and Antifa from a new perspective and tells a story which in the current political landscape is highly relevant."