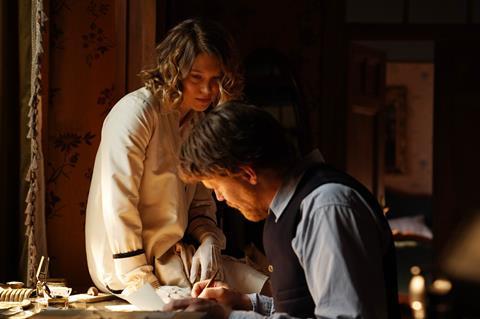 Ildiko Enyedi's Hungarian Competition title The Story Of My Wife, starring Lea Seydoux, Gijs Naber and Louis Garrel, has racked up a raft of new sales for Films Boutique.
The film has now been sold to Japan (Aya Pro), Spain (Bteam), Middle East (Front Row Filmed Entertainment), Switzerland (Filmcoopi), Poland (Aurora Films), Turkey (Filmarti), Bulgaria (Best Film), Ex-Yugoslavia (MCF Megacom).
Lea Seydoux, Gijs Naber and Louis Garrel star in the film about a seasoned Dutch sea captain, who makes a fateful bet in a café that he will marry the first woman who enters the place.
These follow on from sales already confirmed with France (Pyramide Distribution), Germany and Austria (Alamode), Benelux (September Films), Israel (Lev Cinema), Italy (Rai Cinema), Hungary (Mozinet), Greece (Strada), Russia (Russian Report), Czech Republic and Slovakia (Film Europe) and Portugal (Leopardo).