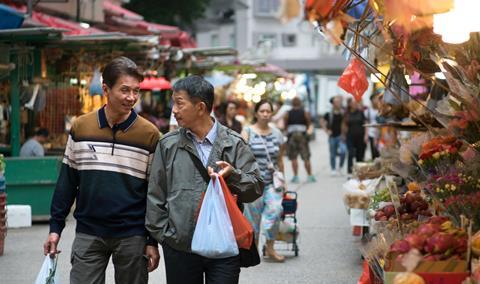 Berlin-based Films Boutique has picked up international rights to Ray Yeung's Suk Suk, which receives its world premiere at Busan International Film Festival (BIFF) on Friday night (October 4).
The Hong Kong-set, gay-themed drama recently picked up five nominations for this year's Golden Horse Awards, including best feature, best original screenplay, best actor (for the two leads Tai Bo and Ben Yuen) and best supporting actress for Patra Ga Man Au. It is premiering in Busan's A Window On Asian Cinema section and is a contender for the festival's Kim Jiseok Award.
The deal for international rights was negotiated by Yeung and producer Michael J. Werner, on behalf of Yeung's Hong Kong-based New Voice Film Productions, with Films Boutique's COO Gabor Greiner. Teresa Kwong, Sandy Yip and Chowee Leow also produced the film.
The film tells the story of a 70-year-old taxi driver, married with children, who starts a relationship with a divorced man, living with his devout Christian son and family. Yeung's screenplay is inspired by a non-fiction book written by HK University Professor Travis Kong.
Yeung and Stanley Guingon executive produced, while behind-the-scenes talent also includes camerawork by Ming Kai Leung, production design by Albert Poon and editing consulting by William Su Ping Chang.