A total of 15 films have been submitted for consideration.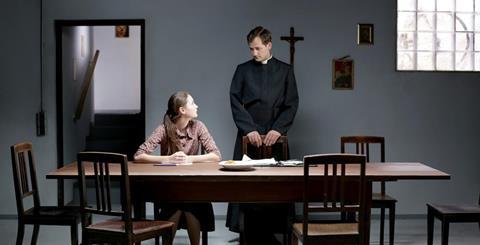 German producers have submitted 15 films for consideration to German Films as the country's entry for the 87th Academy Awards in the Best Foreign Language Film category.
An independent expert jury will decide on Aug 27 which film is to be sent into the race for Germany.
The following titles were submitted:
Home From Home – Chronicle Of A Vision
Edgar Reitz (DE/FR, ERF Edgar Reitz Filmproduktion)
Beloved Sisters
Dominik Graf (Bavaria Filmverleih- und Produktion)
Finsterworld
Frauke Finsterwalder (Walker + Worm Film)
Hanna's Journey
Julia von Heinz (DE/IL, 2 Pilots Filmproduction)
Im Weissen Rössl – Wehe Du Singst
Christian Theede (Ziegler Film)
Stations Of The Cross
Dietrich Brüggemann (UFA Fiction)
Run Boy Run
Pepe Danquart (DE/FR, bittersuess pictures, A Company Filmproduktion, B.A. Produktion, Quinte Film)
The Last Mentsch
Pierre-Henri Salfati (Elsani Film)
Stereo
Maximilian Erlenwein (Frisbeefilms, Kaissar Film, Wild Bunch Germany)
West
Christian Schwochow (zero one film, TERZ Film, öfilm, Senator Film Produktion)
We're The New People
Ralf Westhoff (Ralf Westhoff Filmproduktion, DRIFE – Deyle & Richter Filmproduktion)
Whoami
Baran Bo Odar (Wiedemann & Berg Film)
Wolfskinder
Rick Ostermann (Zum Goldenen Lamm Filmproduktion)
Age Of Cannibals
Johannes Naber (Studio.tv.film)
Inbetween Worlds
Feo Aladag (Independent Artists Filmproduktion, Geißendörfer Film- und Fernsehproduktion)
The German entry for the Best Foreign Language Film Oscar is decided by an annually appointed selection committee. This consists of representatives from nine associations and institutions.
The following representatives were sent this year:
Association of German Film Producers: Michel Morales
German Producers Alliance / Cinema Section: Peter Herrmann
Association of German Film Exporters: Philipp Menz
Association of German Film Distributors: Oliver Koppert
German Cinema Owners Association: Elisabeth Kuonen-Reich
German Film Critics Association: Dunja Bialas
German Society of Cinematographers: Jost Vacano
Bundesverband der Film- und Fernsehregisseure in Deutschland e.V.: Dagmar Hirtz
German Film Academy: Sherry Hormann
The announcement of the five films nominated for the Oscar will be made on Jan 15, 2015. The awards ceremony will be held on Feb 22, 2015 in the Dolby Theatre, Hollywood.