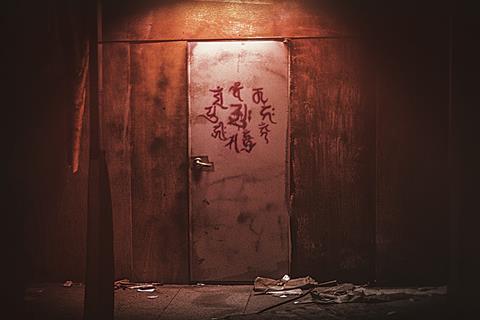 South Korean sales agency Finecut has picked up international rights to horror mystery Guimoon, a working title which translates as 'ghost door'.
Taking place in a secluded community centre rumoured to be cursed after a mysterious mass murder in 1990, the film follows a renowned paranormal investigator who lost his mother during an exorcism and three college students intrigued by the rumours who enter through the door and cross into another dimension.
Now in post-production, it is directed by Sim Deok-geun and stars Kim Kang-woo (Recalled) and Kim Sohye (Moonlit Winter). Ghostpictures and ScreenX Studio produce and Jupiter Film and CJ CGV present the genre feature, which was shot for ScreenX and 4DX in 8K resolution but is also available for 2D screens.
ScreenX is a panoramic format with expanded, dual-sided wing screens, while 4DX is an immersive, multi-sensory cinematic technology meant to enhance the spectator experience. Finecut anticipates the technology will "present another level of horror experience" with the environmental effects and visual depth of the bizarre phenomena happening in the claustrophobic setting of the abandoned building.
The film is currently set for local release in the third quarter of 2021 in all three formats. Finecut will be launching promo reels during this week's Pre-Cannes Screenings.
To promote and support theatrical releases of the ScreenX version, CJ 4DPLEX plans to arrange specialised screening materials for exhibitors. ScreenX facilities are currently available on 260 screens across 37 countries including the UK, the US, Canada, Hong Kong, Indonesia, Japan, Malaysia, Taiwan, Thailand, Vietnam, Australia, France, Argentina, Colombia and Mexico.
The company's other market titles include Thai horror The Medium (aka Rang Zong), produced by Na Hong Jin (The Wailing), which is set to world premiere in the Bucheon International Fantastic Film Festival (BIFAN) next month; Midnight, a thriller about a killer chasing a deaf woman at night; dramas Good Deal and Snowball; and pregnancy comedy Ten Months.
Finecut also has Hong Sangsoo's latest film In Front Of Your Face in Cannes' Official Selection, where it will debut next month in the festival's new Premiere section.