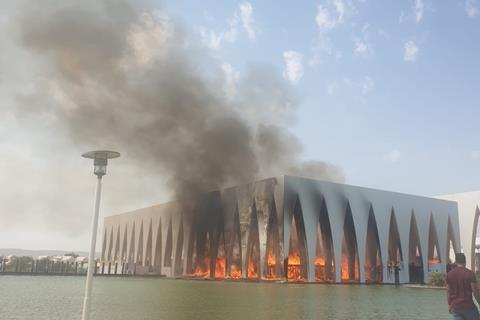 A fire has broken out at the main venue of the El Gouna Film Festival, the day before the festival's official opening.
The fire, which has now been extinguished, occurred at the main festival hall, with several people posting video and images online of flames bursting through the side of the venue.
El Gluna Film Festival plaza caught fire pic.twitter.com/Wkqwwb3VkK

— Daily News Egypt (@DailyNewsEgypt) October 13, 2021
El Gouna Film Festival, which is set to run from October 14-22, has issued a statement, saying that the fire took place "in one section of the Festival Plaza."
"It's important to note that the 5th edition of GFF will proceed as planned," continued the statement. It was also posted on the festival's Twitter account, spoken in Arabic by Samih Sawiris, chairman of Orascom Development Holding, the festival's parent company.
Videos of the incident showed firefighters with water hoses and what appeared to be volunteers with buckets attempting to extinguish the flames, using water from the marina which surrounds the venue.
According to local reports no-one was hurt in the blaze; Screen has contacted the festival for comment.
Statement from the Chairman of Orascom Development Holding Eng Samih Sawiris:

"The 5th edition of the El Gouna Film Festival will proceed as planned."

GFF extends its gratitude to the Civil Defense Forces and the Red Sea Governorate for their immense help… pic.twitter.com/b6ybBbSpTQ

— El Gouna Film Festival (@ElGounaFilm) October 13, 2021