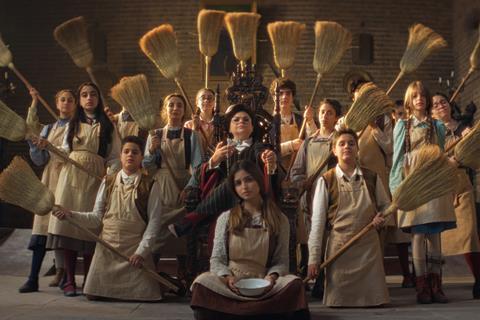 Arabic-language musical Sukkar is being readied for a theatrical release across the Middle East and North Africa, marking the first such feature in the region.
The film is produced by leading MENA company MBC Group, with a story inspired by epistolary novel Daddy-Long-Legs by US writer Jean Webster. MBC has labelled Sukkar the first-ever Arabic-language musical of its kind.
It is directed by Egypt's Tamer Mahdy, known for his work on music videos and commercials, and was conceived by Heba Mashari Hamada, a Kuwaiti writer on TV series including Slave Market and London Class.
The family film follows the journey of Sukkar and her friends who live in an orphanage, waking up every day with hopes of transforming their lives into something more meaningful and colourful. The head of the orphanage, Ratiba, is incredibly mean and makes life even harder for the kids.
The title role is taken by Hala Turk, who became known as a contestant on reality show Arabs Got Talent in 2011 before releasing several singles. She is joined in the cast by newcomers including Yasmina El Abd, Hajar Mohammed, Wedeema Ahmad, Maria Jumaah, Moataz Hesham, Mohammad Al-Harbi, Bavly Remon, and twins Abdullah Khaled and Omar Khaled, alongside more prominent actors Magda Zaki, Reham Al Shanawany and Mohammed Tharwat.
All original songs for in the feature were written by Hamada, scored by Ehab Abdel Wahed and arranged by Ahmed Tareq Yehya. Renowned Egyptian singer Ahmed Saad has lent his voice to the film.
MENA distributor Empire Entertainment will release the film across the region on October 12. It will go on to stream on MBC's Shahid platform.
Lead producer is Samar Akrouk, group director of production at MBC Group, alongside MBC executive producer Lara Ghazal Nassif and MBC producer Alaa Awada, plus executive producer Tamer Mortada and producer Mostafa Al Awadi from Egypt's Aroma Productions.