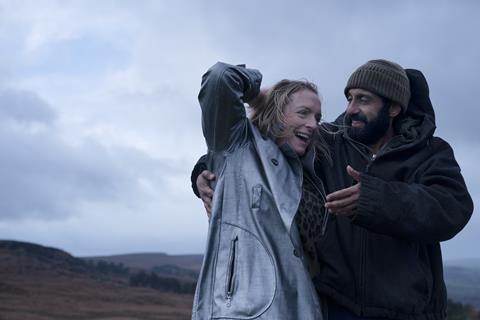 The cast and first details of Clio Barnard's Ali & Ava have finally been revealed, following a wrap on principal photography in the UK.
The fourth feature from the award-winning writer-director will star Adeel Akhtar (Four Lions) and Claire Rushbrook (Secrets & Lies) in a contemporary British love story that explores the intricacies of age, class and race.
It shot for six weeks in various locations around Bradford, in the north of England. A first-look image from the film has also been released, shown above.
Ali & Ava is produced by Barnard's long-term producer Tracy O'Riordan of Moonspun Films and is financed by BBC Films, BFI (awarding National Lottery funding) and Screen Yorkshire. Altitude is handling world sales and UK and Irish distribution.
The film received £970,000 from the BFI, the second-highest BFI production award of 2019.
The story centres on Ava (Rushbrook), a respected matriarch and teaching assistant in her 50s who lives on a predominantly white Bradford estate, who hides the scars left by an abusive ex-husband.
Ali (Akhtar) is a charismatic landlord in his mid-30s, who is devoted to his family and the Asian community in Bradford. Still living with his estranged wife, he hides their separation from his family, continuing the charade of marital domesticity because he still loves her.
Both lonely for different reasons, Ava and Ali find each other and sparks fly, despite their own fears about intimacy and expectations of their families and communities.
It marks a return to Bradford for Barnard, having made her breakthrough documentary feature The Arbor in the West Yorkshire city, which won awards at Tribeca, Sheffield Doc/Fest and the London Film Festival among others.
It also follows her narrative features The Selfish Giant, which won the Label Europa Cinemas prize at Cannes in 2013, and Dark River, which secured a special mention in the platform prize at Toronto in 2017.
O'Riordan, who produced those two previous projects, said Ali & Ava was inspired by Rainer Werner Fassbinder's 1974 romantic drama Fear Eats The Soul and said it was "based on people we have met whilst making our previous films [in Bradford]."
"Ali & Ava is a film about fear and courage, loneliness and belonging, time and love," she added.
A release date has yet to be announced.