EDEF to showcase event cinema and VR.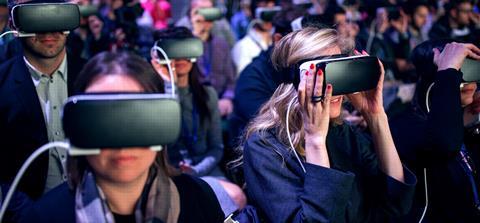 A month-long festival dedicated to event cinema and virtual reality has launched this week, marking the first major festival of its kind.
The inaugural Edinburgh Digital Entertainment Festival (EDEF) will run from Aug 4-28, comprising 68 screenings of exhibitions and 'live' theatrical performances, a VR 'cinema' and a raft of keynote speeches and panel discussions from industry experts.
EDEF is the brainchild of William Burdett-Coutts, CEO of London's Riverside Studios and founder of theatre and comedy promotion company Assembly - one of the major venue operators at Edinburgh Festival Fringe, which also kicks off today.
"At Riverside, we've been exploring what digital can do for the arts and entertainment world and whether there should be a focus on that work," Burdett Coutts told Screen.
"We saw a festival as a way to pull together all the ideas we were thinking of, encapsulating where the industry is right now and where it might go in the future."
The Assembly Rooms' 400-seat music hall has been transformed into a start-of-the-art cinema for the duration of the festival where digital theatre screenings will include Benedict Cumberbatch in Hamlet, Matthew Bourne's dance productions and art exhibition screenings including a portrait of Ai Wei Wei and the works of Van Gogh.
Event cinema has seen major growth in recent years and is forecast to generate $1bn by 2019.
Burdett-Coutts believes there is opportunity beyond just major commercial productions. "My belief is that every major arts event in the country should be recorded," he stated. "We're moving into a world where the accessibility to this work should continue."
Virtual Reality
A major component of EDEF will be virtual reality. Major festivals such as Sundance, Cannes and Sheffield Doc/Fest have integrated VR into their events this year, with queues of people seen waiting to enter the virtual world.
"I think we have gathered the greatest selection of virtual content that anyone has seen in once place," claimed Burdett-Coutts.
"We talked to a lot of festival and production companies to try and pool the best content and give the public the opportunity to see what is available at the moment."
Experiences on offer include Notes On Blindness: Into Darkness, which gives viewers the feeling of going blind as light disappears; Collisions, about atomic bombs in the Australian outback from Lynette Wallworth (the first artist to introduce VR to MoMA); and films exploring the refugee crisis including The Crossing, Seeking Home and Invisible.
The festival will also play host to the European premiere of Kanju, which first screened at Tribeca. Stephanie Riggs' VR documentary short journeys across Africa and includes footage from President Obama's historic 2015 speech in Nairobi.
The VR Cinema strand will be complemented by a Tech Hub, offering more interactive arts and gaming experiences.
Talks
Discussions and 'in-person demonstrations' will take place from next week, with a gaming focus (Aug 8/9), VR and future tech (Aug 15/16) and next generation arts and entertainment (Aug 22).
Representatives from National Theatre Live, BBC Studios and Andy Serkis' Imaginarium Studios will be among those speaking.
"All of these talks will aim to provoke conversation around how we can bring arts, technology, education and entertainment into the same orbit," added Burdett-Coutts.
EDEF will take place during Edinburgh Festival Fringe this year and next, but Burdett-Coutts is already thinking beyond.
"I see this as the start of a very long period of work that grows over the coming years," he added.
"We've got two years in Edinburgh but I'd like to then bring what we've learnt back to Riverside Studios when it reopens in 2018."