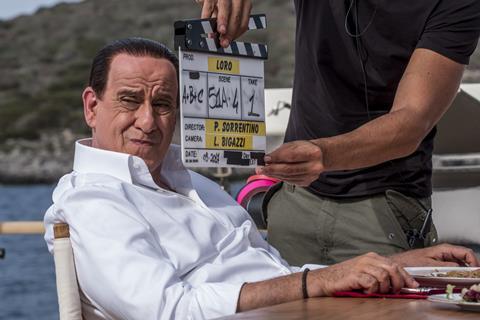 The first image of Toni Servillo as Silvio Berlusconi in Paolo Sorrentino's biopic has been released (see above).
The project, called Loro (Them), will centre on Berlusconi and his entourage. The title means 'Them' but is also a word play on 'L'oro' which means 'gold'.
Berlusconi is the controversial and larger-than-life former Italian prime minister, Mediaset founder and former AC Milan owner.
Sorrentino co-wrote the screenplay with Umberto Contarello. Producers will be regular Italian team Indigo Film, with Nicola Giuliano, Francesca Cima, and Carlotta Calori serving as producers.
Focus Features has acquired Italian rights to the film. Pathé is co-producing and will handle sales outside Italy.
Servillo starred in Sorrentino's foreign-language Oscar winner The Great Beauty and Il Divo, in which he portrayed another Italian prime minister, Giulio Andreotti.