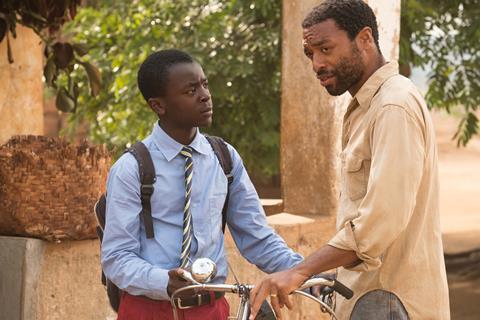 Screen can unveil this exclusive first look at Chiwetel Ejiofor's directorial debut The Boy Who Harnessed the Wind.
Maxwell Simba stars as William Kamkwamba with Chiwetel Ejiofor as his father Trywell in the film directed and written by Ejiofor based on the book of the same title.
The Malawi-shot story is about a boy who can't afford to go to school but dreams of building a windmill to save his village from famine.
Potboiler's Andrea Calderwood and Gail Egan produce, with executive producers Participant's Jeff Skoll and Jonathan King, BBC Films' Joe Oppenheimer, the BFI's Natascha Wharton, Head Gear Films' Phil Hunt and Compton Ross, and the book's authors William Kamkwamba and Bryan Mealer.
Cornerstone handles international sales and is showing footage in Berlin. Participant is handling North America.
Participant Media, BBC Films and BFI, with funds from the National Lottery, are lead financiers on the project, along with Head Gear, Econet and LipSync.
Econet will handle Sub-Saharan African distribution.