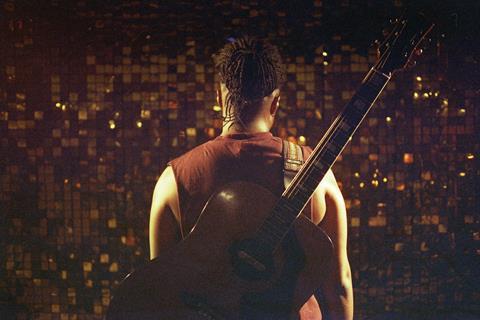 Screen can exclusively reveal a first look at Rocky Palladino's UK feature Phea, which has wrapped production this week following support from the BFI's Covid-19 Continuation Fund.
Writer-director Palladino's debut feature is a modern take on the classic Orpheus myth. It follows Phea, played by singer-songwriter Sherika Sherard, on a journey to find her lover over the course of one tumultuous day and night in London.
Further cast includes Emun Elliott, Velibor Topic, Iola Evans, and Andrew Whipp.
The film shot for five weeks on location in London through August and September, produced by Wendy Griffin of Selkie Productions and Megan Wynn.
Griffin has previous credits as line producer on UK features including Journeyman, Calibre, The Festival, Run, and Ben Sharrock's Limbo, which debuted at Toronto last week and was selected for the Cannes 2020 label.
"We had always planned to shoot quite soon after lockdown before it got busy," Griffin explained. "We had to plan a lot and working with quite a small crew sometimes had its issues."
However the small 16-person crew also made the new Covid-19 safety processes easier, Griffin said. "It helped that we were tiny. We had a brilliant supervisor medic with us who oversaw the testing that we did, the temperature checks and all that kind of thing."
The BFI money "gave us a bit more time," Griffin said. "It covered additional stuff we had to do because of lockdown, then our actual Covid cover for things like testing and cleaning."
The BFI funds were used exclusively for production, with Griffin noting that post-production, which is now underway, won't have the same Covid-19 issues due to the way it is set up.