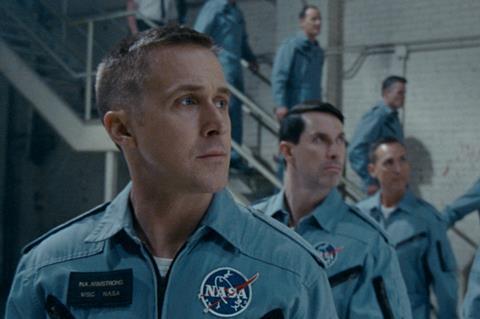 OCTOBER 15 UPDATE: In its second weekend Sony/Marvel's buddy movie Venom held firm at number one on a confirmed $35m to reach $142.1m as Warner Bros' A Star Is Born stayed in second on $28.4m, and Universal's First Man landed in third place on an underwhelming $16m.
Amazon Studios made a splash with its awards hopeful Beautiful Boy in limited release, while Columbia Pictures' Goosebumps 2: Haunted Halloween and Fox's Bad Times At The El Royale delivered a pair of so-so top 10 debuts.
Venom, which stars Tom Hardy as the investigative reporter whose body plays host to an alien parasite with a large appetite, dropped off 56.4% and the $100m production is doing well on $378.1m worldwide after 12 days in release.
A Star Is Born directed by and starring Bradley Cooper opposite Lady Gaga fell an impressive 33.7% as Warner Bros added 22 theatres to raise the count to 3,708 and the running total reached $94.6m, and $136.6m worldwide. The awards contender reportedly cost $36m to produce.
First Man, directed by Damien Chazelle and starring Ryan Gosling as astronaut Neil Armstrong, debuted slightly below expectations at number three in 3,640 theatres. Strong word of mouth is expected to keep the $35m production and awards contender humming along for a while.
Turning to the other new arrivals in the top 10, Columbia Pictures' $35m Goosebumps 2: Haunted Halloween debuted in fourth on $15.8m in 3,521. This marked an approximately 36% drop against the $23.6m 2015 debut of the original when adjusted to $25.1m to take account of inflation. The first film starred Jack Black in a more prominent role.
Fox's Bad Times At The El Royale arrived in seventh place on $7.1m in 2,808 and reportedly cost $32m. Fox's race drama The Hate U Give, another well regarded film this year about the police shooting of a black person (Monsters And Men, Blindspotting deal with the same topic), shot up from number 13 to ninth place after the drama expanded from 36 sites to 248, adding $1.7m for $2.4m after two weekends.
Beautiful Boy, the true story of a man whose son goes through drug addiction that stars Steve Carell and Timothée Chalamet, hit the jackpot as it debuted at number 20 on $218,888 from four venues for a strong $54,722 average. Belgian Felix van Groeningen (The Broken Circle Breakdown, The Misfortunates) makes his English-language debut. Opening at number 12 was Gosnell: The Trial Of America's Biggest Serial Killer, which grossed $1.2m rom 673 sites through GVN Releasing.
Box office for the top 12, where nine of the films have been in release for three weekends or less, generated $128.6m, down 24.3% on last weekend when Venom opened, and up 37.8% on the comparable session in 2017.
This week's wide release is Universal's horror reboot Halloween starring Jamie Lee Curtis and directed by David Gordon Green.
Confirmed top 10 North America Oct 12-14, 2018
Film (Dist) / Conf wkd gross / Conf total to date
1 (1) Venom (Columbia Pictures-Marvel) Sony Pictures Releasing International $35m $142.1m
2 (2) A Star Is Born (Warner Bros) Warner Bros Pictures International $28.4m $94.6m
3 (-) First Man (Universal) Universal Pictures International $16m –
4 (-) Goosebumps 2: Haunted Halloween (Columbia Pictures) Releasing International $15.8m –
5 (3) Smallfoot (Warner Bros) Warner Bros Pictures International $9.1m $57.4m
6 (4) Night School (Universal) Universal Pictures International $7.8m $59.6m
7 (-) Bad Times At The El Royale (Fox) Fox International $7.2m
8 (5) The House With A Clock In Its Walls (Universal) Universal / Amblin Partners $3.8m $62.1m
9 (13) The Hate U Give (Fox) Fox International $1.7m $2.4m
10 (7) The Nun (Warner Bros) Warner Bros Pictures International $1.3m $115.9m