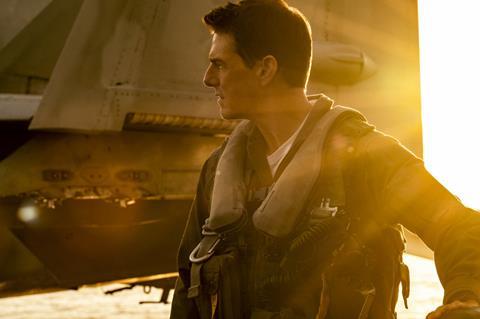 There was plenty of optimism among exhibitors in the corridors of Caesars Palace last week (April 25-28).
Here's what you need to know about CinemaCon 2022.
Buoyant mood reigns as studios tease tentpole slates
There were a number of reasons for optimism at CinemaCon for the convention's first proper return in three years – not counting August 2021's slimline event. Heading into an anticipated summer season an advance party of box office hits led by Spider-Man: No Way Home, The Batman and Sonic The Hedgehog 2 set the scene. Cinema-going is back for the right films and National Association of Theatre Owners (NATO) head John Fithian told press he believed consumer confidence is returning. Studio executives on the whole were not about to dampen exhibitors' hopes and at least two heads – Universal Filmed Entertainment Group's (UFEG) Donna Langley and Paramount's Brian Robbins – declared that theatrical was the cornerstone of their business.
Among the avalanche of upcoming tentpoles teased in presentations were some which have been postponed during the pandemic and others which were always going to be dated for 2022 and beyond. The list is long but they include this week's release Doctor Strange In The Multiverse Of Madness, Minions: The Rise Of Gru, Top Gun: Maverick, Jurassic World: Dominion, Bullet Train, Elvis, Thor: Love And Thunder, Black Adam, Black Panther: Wakanda Forever, Babylon and Avatar: The Way Of Water. 2023 and beyond promise the two-part Spider-Man: Across The Spider-Verse, A Quiet Place prequel, Mission: Impossible – Dead Reckoning Part 1, The Marvels, Barbie, Wonka, Guardians Of The Galaxy Vol. 3, a sequel to The Batman and three more Avatar instalments.
The new world order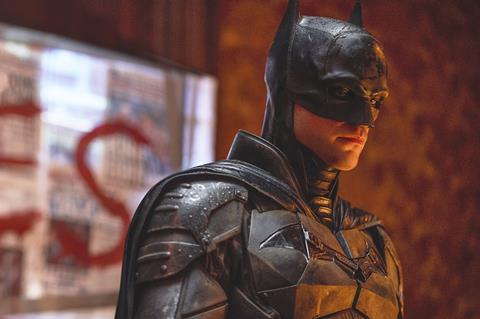 Amid a generally exuberant mood executives including Paramount's head of domestic theatrical distribution Chris Aronson reminded attendees that we have not put Covid-19 behind us quite yet and it will take a while for the numbers to show theatre-going is well and truly on the road to recovery. NATO's Fithian and his team estimate that around 2% of US screens (800 out of 41,000) have shut down permanently as a result of the pandemic, a number that they concede was lower than they expected. The summer season will be the testing ground. Yet even then, executives said returning to pre-pandemic ticket sales may be a couple of years away, especially given streaming's place in the ecosystem. Box office comparisons to 2019 and even 2021 may be somewhat specious given the extraordinary times the world has gone through in the last two years.
The shrinking of the exclusive theatrical window to an average of 45 days in North America – dipping to 17 days under the UFEG model – is now accepted. So too is the notion that theatrical distribution and streaming can live side-by-side. Exhibitors are no longer in denial over their need to keep a film exclusively in their venues long after its prime box office corridor has expired after around five weekends (often in the case of wider, tentpole releases). They have no choice: streaming avenues have tipped the balance in favour of distributors, but at least there's no longer so much sticking of heads in sand. In fact there is renewed confidence after it emerged that The Batman drew some 4.1m viewers on HBO Max after it grossed much of its $760m+ global box office exclusively in cinemas.
Much of the reaction to Netflix's miserable Q1 earnings and a $54bn ding to its market cap, which overall has plunged 70% since last November, was pure schadenfreude and what the trailblazer does in the weeks and months ahead will be scrutinised. Another significant development (greeted with relief) was when Warner Bros Discovery CEO David Zaslav made it clear in the newly merged media giant's first earnings report that he believes in theatrical. He also said he is not overspending on content. (He has $3bn of savings to make, so that was hardly a surprise.)
The opportunity is there for original content, medium-sized and small films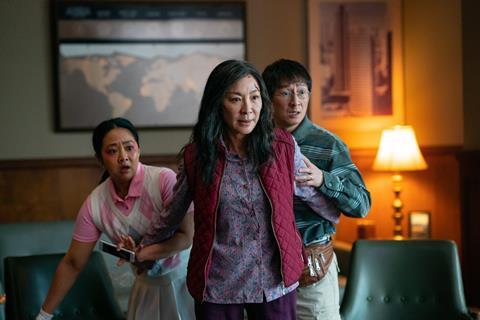 Studio heads like to throw in the word "original" and pat themselves on the back on the relatively rare occasion they spend big on original content rather than the safe bet of sequels, spin-offs and IP adaptations. Yet pretty in much every studio presentation there was reference to capturing the broader audience and not just the bread-and-butter 18-24 male demographic that will watch superhero films come what may. It is in the interests of exhibitors to book such films and A24's Everything Everywhere All At Once, starring Michelle Yeoh, which has crossed $35m in North America, offers hope. Among the non-tentpoles and non-superhero films coming our way are: New Line/Warner Bros' Don't Worry Darling; Sony's The Woman King and I Wanna Dance With Somebody; Neon's Cannes selection Crimes Of The Future; Universal's She Said; Bleecker Street's Golda; and Focus Features' Mrs. Harris Goes To Paris, Downton Abbey: A New Era, Tár, and Cannes entry Armageddon Time.
Security at film events needs to be tightened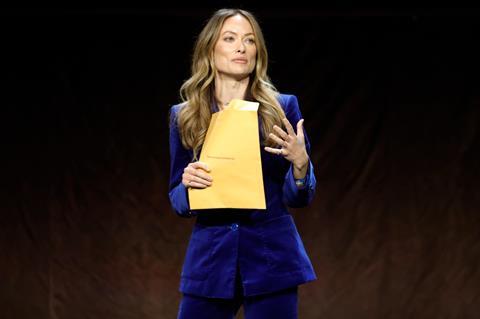 One of the oddest moments of CinemaCon was Olivia Wilde being served legal papers while she talked about her new film and second outing as director, Don't Worry Darling. Wilde kept her composure when a mysterious manila envelope slid across the stage at the Colosseum. We later learned it contained custody papers from her former husband, Jason Sudeikis. Regardless of whether the Ted Lasso star intended for this to happen when it did (highly unlikely as the timing ultimately came down to the process server), the bigger question was how did someone get inside the show close enough to slide a package of documents to a high-profile on-stage talent? CinemaCon has promised a thorough review of security protocols in time for 2023, but for something like this to happen almost exactly one month after Will Smith strode on stage to slap Chris Rock at the Oscars while nobody got between the two men is alarming. People in the industry are shocked and going forward there needs to be a rigorous look at how to ensure the safety of everybody inside an awards show venue.
Tom Cruise saves the day
If there's one thing that can make it feel like everything will turn out fine during times of hardship it's Tom Cruise flashing that million-watt smile on screen. Paramount pulled off a masterstroke when it showed Top Gun: Maverick in its entirety and CinemaCon attendees struggled to recall such a wildly enthusiastic reaction to any screening at any time in the show's history. After multiple Coid-19-induced delays, it's a credit to Paramount that it saved this one for a theatrical release instead of handing it off to a streamer. It knew what it had and the proof was in the viewing. More than three decades after Tony Scott's 1986 high-octane original about trainee Navy pilots, Cruise's Oblivion director Joseph Kosinski does the property proud. This may well end up being the talking point of Cannes, where the film plays as a special screening after a tribute to Cruise on May 18. More importantly, its arrival in North American cinemas on May 27 could be the start of another theatrical success story that will help fuel the narrative of the 2022 recovery.