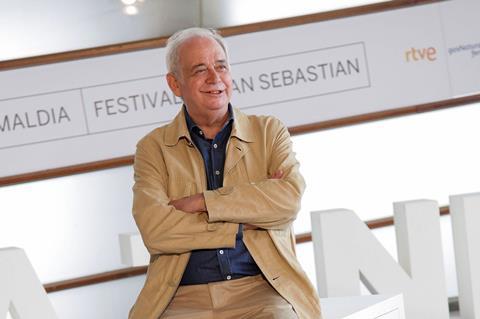 Diego Galán, the former artistic director of San Sebastian International Film Festival, has died on April 15 in Madrid, aged 72.
Galan was credited with boosting the international profile of the festival and injecting it with a dash of glamour.
Coming from a long career as a film journalist and author, Galán was first appointed artistic director in 1986, having worked as a consultant to the festival for the previous year. He ran San Sebastian until 1989, returned as a general consultant from 1993-94, and was sole director from 1995 to 2000.
Achievements during his time included the launch of the Premio Donostia honourary award in 1986, first received by Gregory Peck and subsequently given to icons including Bette Davis, Lauren Bacall, Robert De Niro and Meryl Streep.
Jose Luis Rebordinos, the current director of San Sebastian, paid tribute to Galán on Twitter, saying: "Diego Galán [had] a passion for cinema, without which you could not understand the history of our festival. Rest in peace. A strong hug to your loved ones."
Galán was born in Tangiers, Morocco in 1946. As a journalist, he started his career with Nuestro Tiempo in 1967, and from 1970 wrote for weekly film magazine Triunfo, which pushed for democracy under the dictactorship of Franco in the early part of that decade.
He was also lead critic for influential Spanish daily newspaper El Pais from 1980 to 1985.
Galán also worked as a writer and director, making the TVE series Memorias Del Cine Español in 1977, and returning to this vocation more recently with documentaries Con La Data Quebrada (a Cannes selection) in 2012 and Manda Huevos in 2016, which looked at the sexism and machismo of Spanish cinema under Franco.
As an author he wrote multiple books on film, starting with 18 Españoles De La Posguerra in 1973 and including Jack Lemmon Nunca Cenó Aquí (Jack Lemmon Never Dined Here), about his experiences at San Sebastian.